The Government of United Kingdom has banned all service providers in the country from buying new Huawei 5G equipment over national security concerns.
Oliver Dowden, the UK's Digital Secretary, told the House of Commons of the decision on Tuesday, the BBC reports.
The service providers must also remove all the Chinese firm's 5G kit from their networks by 2027 under the new regulations.
UK ban on Huawei in 5G network groundless, says Chinese ambassador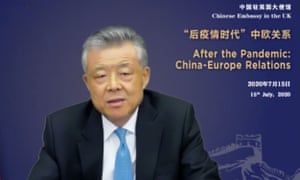 Chinese Ambassador to the UK
Beijing warns that removal of telecoms firm from UK network by 2027 will undermine trust
The British government's decision to ban the use of Huawei in its 5G network is groundless and indicative of the UK's junior status in its alliance with the US, Beijing has said as it vowed to take measures to protect the interests of Chinese companies.
"Listening to all the rhetoric it was clear the UK had succumbed to pressure from China hawks and bashers," said Liu Xiaoming, the Chinese ambassador to the UK. "We are not asking you to take sides between China and the US. We are just asking you to take the right side of the argument. Britain can only be Great Britain when it has an independent foreign policy."
On Tuesday the British government pledged to remove the Chinese telecoms firm from its 5G network by 2027, despite warnings of retaliation from Beijing.
"Any decisions and actions [by Britain] must come at a cost," Hua Chunying, a Chinese foreign ministry spokeswoman, said at a press briefing on Wednesday. "China will fully and solemnly assess this matter, and will take a series of necessary measures to safeguard Chinese companies' legitimate rights and interests."
Hua claimed London "[acted] in coordination with the US to discriminate against, suppress and eliminate" Huawei, and accused Britain of becoming "America's dupe".
Huawei has become a pivotal issue in the geopolitical war between China and the US, which claims the firm poses a significant cybersecurity threat.
Donald Trump claimed credit for the UK move, boasting in a press conference on Tuesday that no White House "has been tougher on China" than his administration.
He said he had worked to pressure countries not to use Huawei. "If they want to do business with us, they can't use it. We convinced many countries – many countries – and I did this myself, for the most part, not to use Huawei because we think it's an unsafe security risk. It's a big security risk."
Liu referenced Trump's comments, saying: "President Trump is taking credit for the decision, saying it was his personal success … Everyone understands what is the reason behind the UK decision."
Ties between the UK and China have deteriorated over the past month after the UK criticised Beijing's imposition of a sweeping national security law on Hong Kong, a former British colony, and pledged to support fleeing pro-democracy activists and protesters
PRESIDENT TRUMP WELCOMES THE BAN
Donald Trump has welcomed Britain's decision to block Huawei from its 5G network - while China's ambassador to the UK said it was "disappointing and wrong".
Yesterday, Boris Johnson also banned the purchase of any new 5G equipment from the Chinese tech giant from the end of this year.
The US president praised the UK's decision, saying: "We convinced many countries, many countries - and I did this myself for the most part - not to use Huawei, because we think it's an unsafe security risk.
"It's a big security risk and I talked many countries out of using it. If they want to do business with us, they can't use it."
Asked about Mr Trump's assertion that he "convinced many countries" to ban Huawei, Health Secretary Matt Hancock stressed the UK government had made a "technical decision" to block the Chinese company.
He told Sky News' Kay Burley @ Breakfast show: "We all know Donald Trump, don't we?"
"All sorts of people can try to claim credit for the decision," Mr Hancock added.
"But this was based on a technical assessment by the National Cyber Security Centre about how we can have the highest-quality 5G systems in the future."
Friends, the King (JESUS CHRIST) is coming. The question is "Where will you spent eternity - in heaven or hell". This is the time to work out your salvation...Now is the acceptable time. If you have received Jesus as Lord and Saviour of your life, say this short prayer:
Heavenly Father, I come in prayer in the name of Jesus Christ. I repent of my sins and confess them to You, ask for forgiveness. I believe that Jesus died for my sins and rose again for my justification. I invite Jesus into my heart to reign as Lord and Saviour of my life.
Thank You for answered prayers, I am born again.