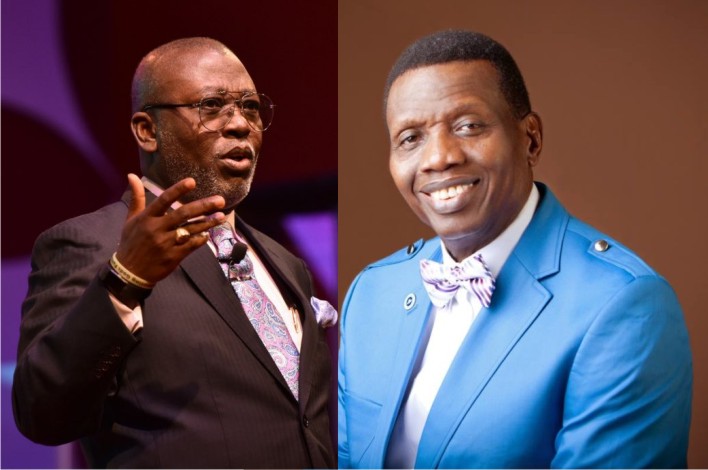 Adeboye's senior Pastor, Tola Odutola resigns, says he served RCCG for 30yrs and got nothing (Video)
Pastor Tola Odutola, one of the most prominent pastors of the Redeemed Christian Church of God (RCCG) in the United States, has resigned from the Church.
Pastor Odutola, who is the Senior Pastor of Jesus House Baltimore, cited lack of care from the church in his 30 years of service.
In a viral video where he announced his resignation, Pastor Odutola refused to go deeper into divulging more details about his decision but revealed he had served RCCG for 30 years without receiving anything in return.
Odutola announced on Sunday that his church would now run independently, attracting applause from the congregation, before adding he was prepared to face backlash on social media for his decision.
The Pastor said it is expected that he would be demonised on social media for his decision, adding it is 'okay'.
He, however, asked his members not to bring the reports to him. The pastor said that it is also okay if members want to counter such a report online, saying that he would not do so but rather focus on the job at hand.
The cleric also said he "would not throw stones", adding that he helped built his former church. Pastor Tola said this is the last time he would be talking about his resignation as he wants to move on.
Odutola was the founding Chairman of the Redeemer's Leadership Institute (RLI) according to the website of Jesus House Baltimore.
RLI is "the Leadership arm of the Redeemed Christian Church of God North America (RCCGNA) which provides continuous training for Religious Leaders worldwide."
Redeem Church Sacks Pastor for Attempted adultery
Pastor Bakare based in Akure, Ondo State with the Redeemed Christian Church Of God, RCCG, has been caught pants down trying to sleep with a married woman.
The shocking and scandalous situation of the pastor of the (RCCG ZONE 6 Akure), attempting to sleep with a married woman, right inside her matrimonial home was caught on video.
The woman played along and allowed him to undress completely before opening the door for her husband and others to come into disgrace and humiliate the pastor.
In the video the naked pastor could be seen speaking in native Yoruba language and begging for forgiveness on his knees, asking them not to expose him.
The woman, whom he attempted to sleep with, was also heard saying that they will call his wife to come and witness his shamefulness, obviously, she is a member of the pastor's church and knows his wife.
The Redeemed Christian Church of God (RCCG) has revealed that it has relieved Pastor Gideon Bakare of his ministerial duties in the church over allegation of adultery.
Pastor Bakare, in a viral video, was caught sitting half-naked in a compromising position with a woman who is described as a wife of a member of the RCCG's branch in Akure, Ondo state. Reacting in a statement on Wednesday, Olaitan Olubiyi, RCCG spokesperson, said Pastor Bakare has been excommunicated.
He said: "The Redeemed Christian Church of God has excommunicated Mr. Gideon Bakare and relieved him of all ministerial duties in the Mission. "Bakare, who was an Assistant Pastor in the Church was recently accused of an attempted act of adultery with a woman in her matrimonial home in Akure, Ondo State.
"The Church dissociated itself from such an immoral act of Mr. Bakare and described it as being completely contrary to the core values, doctrines, beliefs and practices of the RCCG and the undiluted word of God. "The Church, after reviewing the report of her investigation, noted that by his conduct, Bakare has not only tainted his personal reputation but has portrayed the Church in a bad light.
" Mr Bakare has therefore been directed to return all official items in his custody and stay off all associated connections with the Mission with immediate effect."
Friends, the King (JESUS CHRIST) is coming. The question is "Where will you spent eternity - in heaven or hell". This is the time to work out your salvation...Now is the acceptable time. If you have received Jesus as Lord and Saviour of your life, say this short prayer:
Heavenly Father, I come in prayer in the name of Jesus Christ. I repent of my sins and confess them to You, ask for forgiveness. I believe that Jesus died for my sins and rose again for my justification. I invite Jesus into my heart to reign as Lord and Saviour of my life.
Thank You for answered prayers, I am born again.