GUIDELINES FOR EASE OF LOCKDOWN
The Federal Government has released new guidelines for the new phase of containment of COVID-19 from May 4 to May 17, 2020.
Part the guidelines which were signed by the Secretary to the Government of the Federation, Boss Mustapha, stated that anyone without a face mask in public will be prosecuted.
The guidelines were also specific about information to the general public, guidance to states and security agencies and description of activities allowed under the new phase.
The SGF said, "Anyone who presents a temperature of above 38ºC will be mandated to return home and call NCDC for evaluation.
"Anyone without a face mask/covering will be asked to return home and will be prosecuted.
"Anyone violating the curfew in a non-emergency situation will be prosecuted. Anyone attending a gathering of more than 20 people will be prosecuted.
"Any member of the public who violates the ban on Inter-State movement as outlined in this guideline will be prosecuted."
The statement also stated guidelines for the ease of lockdown in Lagos, Ogun and the FCT.
It said, "Following improvements in the multisectoral response to COVID-19 pandemic, the Federal Government of Nigeria has decided that there will be a phased and gradual easing of the lockdown in Lagos and Ogun States as well as the Federal Capital Territory effective from Monday, 4th May 2020.
"The easing of the lockdown will be characterised by the mandatory use of non-medical face mask/covering for all persons while in public spaces. Latex hand gloves should not be worn except for specific medical purposes.
"The mandatory provision of handwashing facilities/sanitizers in all public places. All interstate travel is prohibited except for essential travels and services such as transportation of agricultural products, petroleum products, relief items, goods, commodities related to the COVID-19 response, and persons on essential duty."
The new advisory also prohibited the mass gathering of more than 20 people outside of a workplace while there would be controlled access to markets and locations of economic activities. The FG retained the ban on all passenger flights with religious gatherings also restricted.
For intra-state travel in public transport, the guideline-recommended a maximum of 50 per cent of usual occupancy while taxis were ordered to carry only four persons including the driver.
"All schools to remain closed until further evaluation. Schools are encouraged to continue with e-learning and visual teaching. State governments and security agencies are enjoined to ensure effective and strict enforcement of these guidelines.
"The level of compliance with these guidelines will be reviewed in two weeks before additional guidelines for phase two is issued," it added.
CORPORATE LOCKDOWN RELAXATION RULES - NCDC:
Dr Chikwe Ihekweazu, Director General of NCDC, told the News Agency of Nigeria (NAN) on Tuesday in Abuja that the new directives resulted from evolving knowledge of COVID-19 locally and nationally.
Ihekweazu said that these will be applied nationwide to individuals as well as businesses, employers and employees.
CORPORATE RULES:
A. Mandatory use of non-medical face mask/covering for all persons and overnight curfew from 8pm. to 6am.
B.
Mandatory provision of handwashing facilities/sanitisers, Single use latex gloves are discouraged, except in clinical settings, or if used, they should be disposed of safely after each single use.
C. Physical distancing of two metres between people in workplaces and other public places and no large gatherings of more than 20 people outside the workplace," he said.
The DG advised employers and businesses to take the following measures seriously with a view to reducing the risk of spreading COVID-19 in the workplace.
1. Provide handwashing facilities/alcohol-based sanitizers – promote thorough and frequent handwashing with soap and water for at least 20 second," he advised.
He said that employers could reduce the risk of spread of virus by ensuring extensive temperature checks on entry into office and business premises.
2. Mandate the use of non-medical face mask/covering for all staff at all times. Develop physical distancing strategies within the office or business environment to safeguard the health and safety of employees in line with guidelines set out by the NCDC.
3. Where staff members have regular face-to-face contact with customers, ensure they have the necessary protective equipment to keep them safe and their health protected.
4. Develop an infectious disease preparedness action plan to reduce the risk of exposure in the workplace and communicate it to all staff members.
"This includes identifying a central person focused on coordinating COVID-19 matters.
5. Ensure the contact details and emergency contact details of all staff members is kept up to date and is always easily accessible.
6. Ensure that staff members know how to spot the symptoms of coronavirus and they have a clear understanding what to do if they feel unwell, mandating unwell employees to stay at home.
7. Display signage in your office or business premises reminding staff and visitors to maintain good and respiratory hygiene.
8. Discourage the sharing of work equipment, tools, computers, phones and desks," he said.
According to Ihekweazu, employers can also adapt business practices to reduce the spread of COVID-19 by developing policies and practices that enable employees to work more flexibly and remotely.
"Working from home and leverage technology to arrange virtual meetings with employees and clients. Ensure adequate space between employees (minimum 2 metres), limiting staff to about 30 per cent – 50 per cent of the normal workspace capacity.
9. Limit customers in the business premises to about 30 per cent – 50 per cent capacity at any one time. Decide on the level of staff required to come to work, as the business re-opens, e.g. support staff, receptionists, catering staff.
10. Consider the staggered re-introduction of staff members into the office, using staff rotas and flexible work hours or work shifts. Where possible, businesses should provide transportation for their employees to limit their use of public transport.
11. Limit the number of visitors to your office premises and take advantage of enterprise video conferencing tools. Put into place flexible workplace policies to respond to staff absenteeism, with an efficient process to ensure the smooth handover of work from one staff member to the other when required," he stated.
ENFORCEMENT EFFORTS: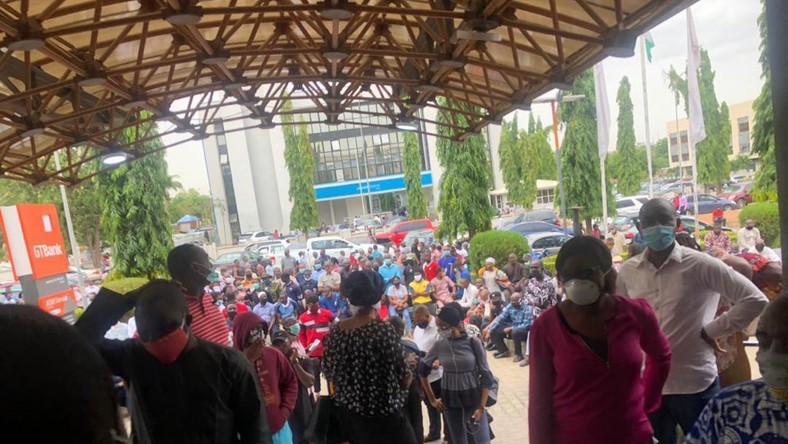 The News Agency of Nigeria (NAN) reports that many Lagos residents used face masks on the first day of gradual relaxation of lockdown of the state but did not observe social distancing at some bus stops, banks and other public places.
The federal and Lagos State governments had ordered the use of face masks and social distancing as part of measures to curtail the spread of COVID-19.
Mr Joshua Ochugbo, a 53-year-old trader in Abule Egba, said that it was good that many residents used face masks but would have been better if they also observed social distance.
He said he would use face mask until the end COVID-19 crisis and would do his best to keep distance from people.
A necessity in markets and public places, including transportation systems would require people to be patient and insist on their own safety. On a personal note, I waited for a long time yesterday for people in a shop to finish their business and come out, before I went in.
But, as I waited, more people came to the shop for business and I have to ask them to queue behind me. Our safety is in our own hands, i
nsist on the rules for your safety!
India imposes 70% 'corona tax' on alcohol to deter large crowds
NEW DELHI - Officials in India's capital imposed a special tax of 70% on retail liquor purchases from Tuesday, to deter large gatherings at stores as authorities ease a six-week lockdown imposed to slow the spread of the coronavirus.
Taxes on alcohol are a key contributor to the revenue of many of India's 36 states and federal territories, most of which are running short of funds because of the lengthy disruption in economic activity caused by the virus.
Police baton-charged hundreds of people who had flocked to liquor shops when they opened on Monday for the first time in a relaxation of the world's biggest lockdown, which is set to run until May 17.
The Delhi state government announced the "special corona fee" in a public notice late on Monday.
"It was unfortunate that chaos was seen at some shops in Delhi," said Arvind Kejriwal, the state's chief minister.
"If we come to know about violations of social distancing and other norms from any area, then we will have to seal the area and revoke the relaxations there," he added.
Other states, such as southern Andhra Pradesh, where people also violated social distancing measures to queue up in their hundreds for alcohol, also hiked prices.
World's best face mask?