The world and its people have accepted the battle unleashed by Coronavirus pandemic. This is one battle the world was never prepared for. It is one that has changed a lot of things about how people do practically everything from working to going to school, market and entertainments.
Never in the history of this world have so many global sporting and other key events been postponed due to a disease. From the Olympic games to global meetings and events, the virus has come in the way of economic and social development of nations.
Private companies, airlines and banks are not spared. They all have to close down for some time, at least to stop the free-spread of the disease as people mingle and come in contact with one another
Many countries have recorded over 500 people dying in a single day, even as an effective vaccine is yet to be developed for the virus. This disease has brought so much despair and hopelessness as people are forced to stay at home, to save their lives and that of others around them.
COVID 19 is an annoying disease that seeks to stop people from socializing and staying close to their loved ones. Movement restricted across the world, borders closed flights suspended, yet the disease is still spreading.
People are wearing protective gears and masks and yet there is still fear the disease could still be contacted.
The good news is that, with God on our side, strict observance to the COVID 19 rules, we will all win the fight in the name of our Lord Jesus Christ.
Captured here, are men and women with a winning attitude towards COVID 19. They are complying with the rules and in the midst of it all, they are reaching out to others in songs and dance. We have included videos of opinions of people on COVID 19 related matters.
1. POLICE WORSHIPPING AND PRAYING
A recent video making rounds online shows police worshipping and praying intensely along the road while on duty.
With their face masks on and gloved hands, guarding and keeping safe against the deadly Coronavirus, the police could be seen lifting up their hands in worship and prayer unto God, while blocking the road to enforce the stay at home law as a mean to curb the spread of the virus.

Other Coronavirus news:
More than a million cases of the novel coronavirus have been confirmed worldwide while authorities in the United States continue issuing strict measures to slow down the spread of the virus
Lagos, Nigeria
Nigeria fights back -
11 new Coronavirus patients recover, discharged in Lagos
COVID19 COMEDIES: - To lift your spirit.
Made in Nigeria
LOCKDOWN /STAY AT HOME WEDDING
A couple got married in their Living Room in Taraba State, Nigeria due to Lockdown
According to a post by Tony Matinjah, he said the couple got married in their room with few friends in attendance. It was a simple ceremony due to the order given by the state government to observe Lockdown which started yesterday by 11pm. According to him, It was a lovely wedding with about ten quests and free from public disturbance.
The couple is truly one of a kind!
CORO MARRIAGE ROMANCE - Lithuania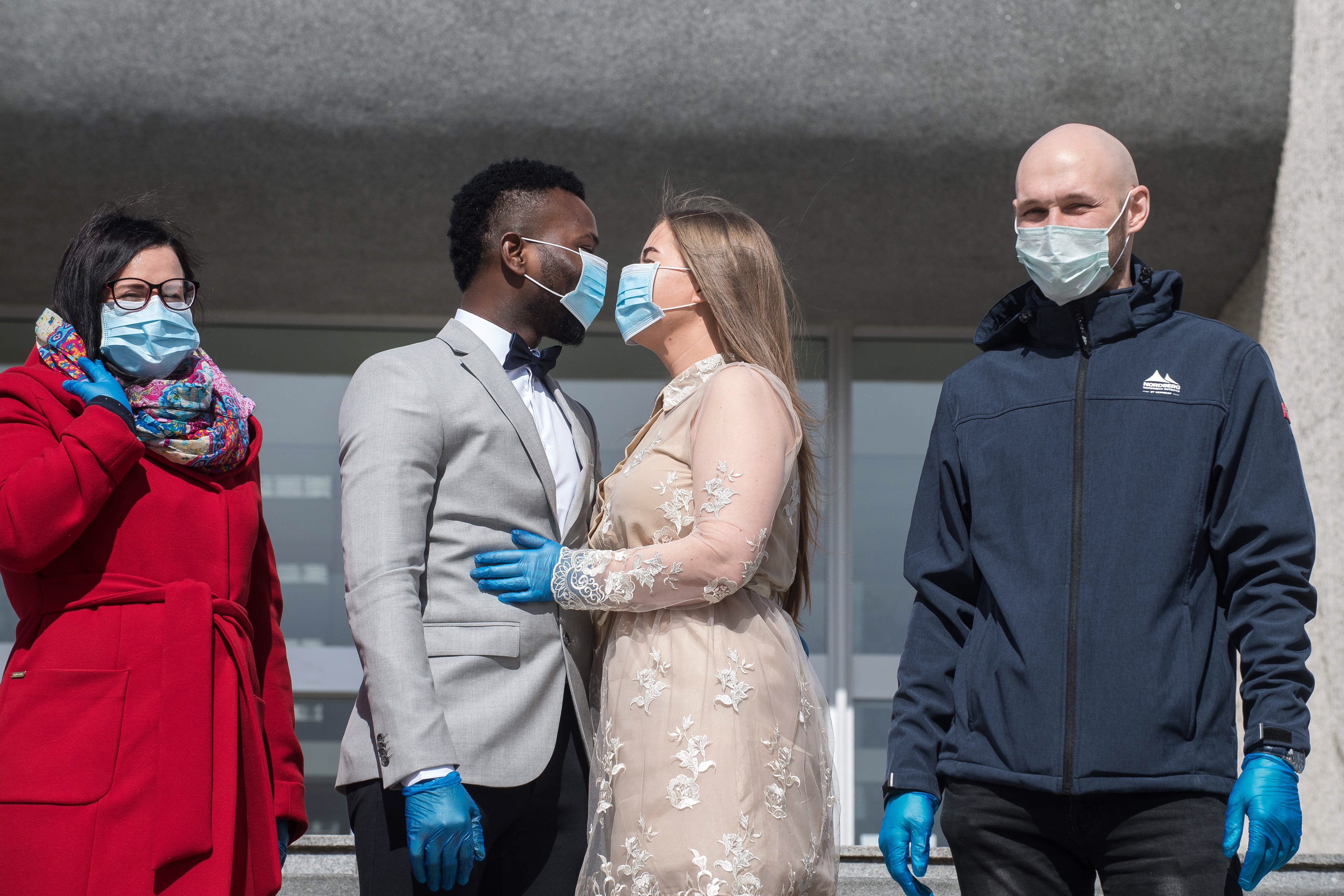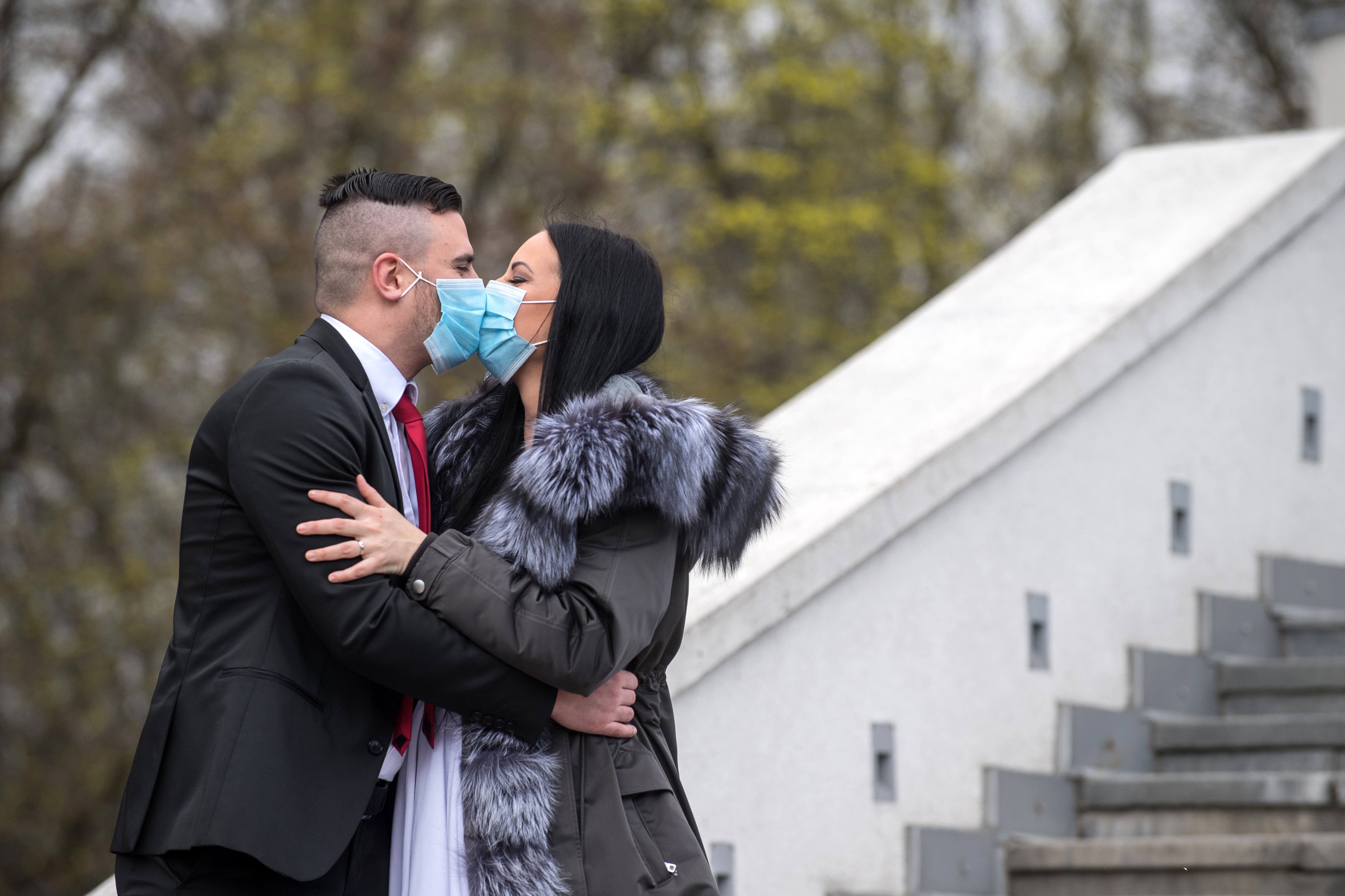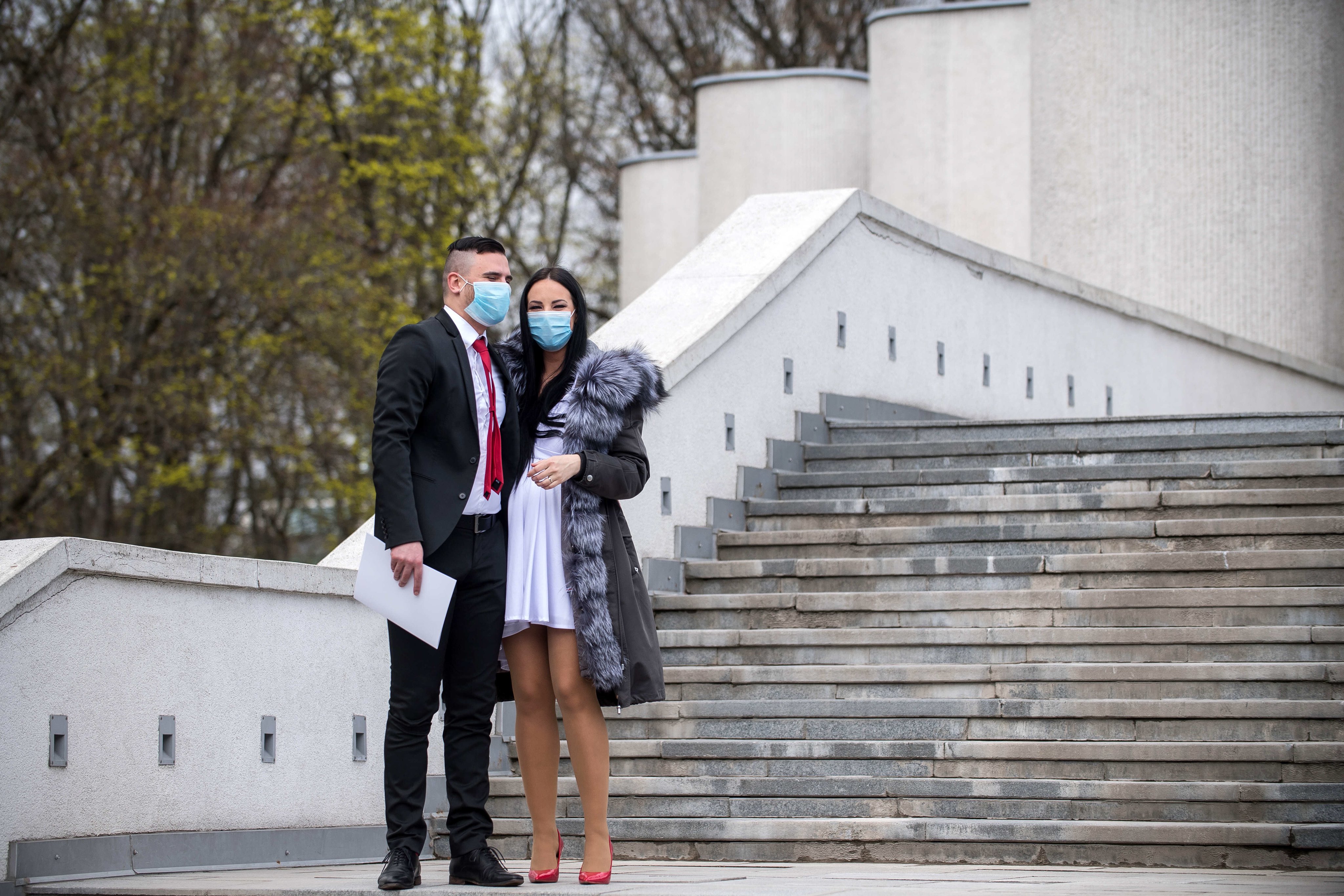 Romance cannot be hidden under masks amid the
#coronavirus
pandemic.
#Lithuania
's couples have registered their marriages donning masks and gloves.
The United Arab Emirates launches online marriage service
The United Arab Emirates has launched an online marriage service that allows couples to wed amid restrictions on movement and interaction imposed to counter the deadly coronavirus.
The justice ministry said on Sunday that citizens and residents can set a date for an online wedding ceremony conducted via video link with a cleric after their paperwork is submitted and approved — also online, according to the UAE's official news agency WAM.
The procedure will see a cleric confirm the identity of the couple and witnesses, before a marriage certificate is relayed to a specialised court for validation.
The couple will receive confirmation of their marriage certificate via text message.
The service was launched "to maintain the health of the public and that of people working in courts and to limit the presence of employees", WAM reported.
This comes after Dubai, one of the seven emirates that make up the UAE, said on Wednesday it suspended "until further notice" marriages and divorces in the emirate. No announcement has been made about divorce proceedings.
COVID 19 Compliant Wallmart Shopper
Made in USA
IT SPRING IN JAPAN, NOW
Nature is harmless.
It is spring in Japan now. Guess what, mother nature does not know about Coronavirus or COVID 19 lockdown. It has released its abundance of beauty to transform the environment notwithstanding!.
EASTER SERVICE LIKE NONE OTHER - ROME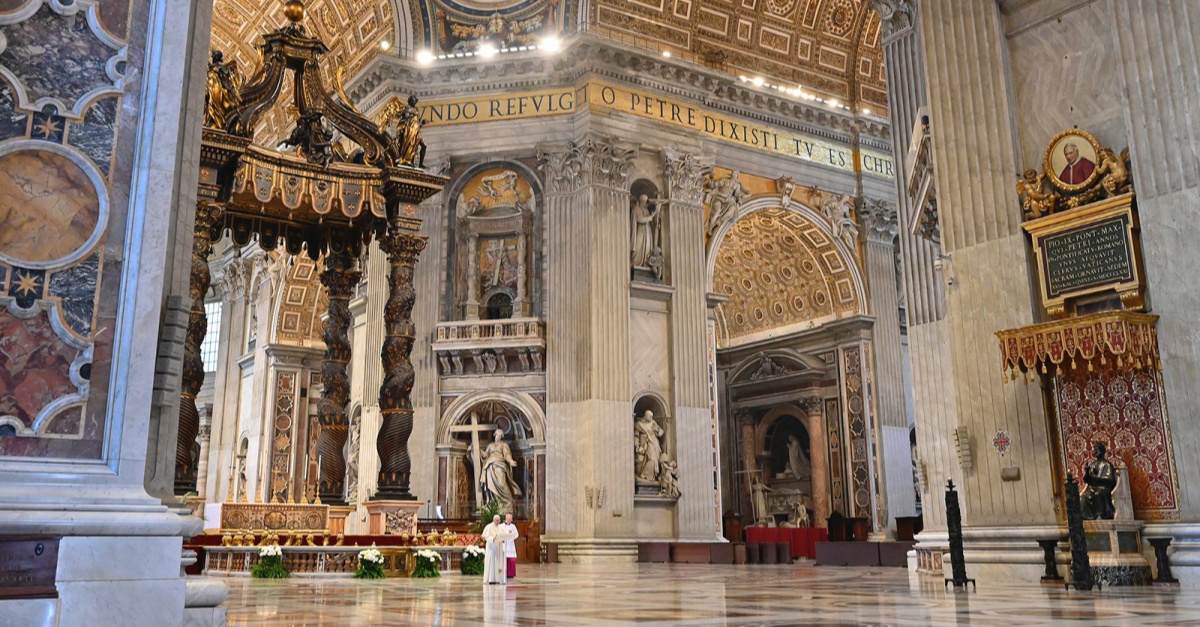 VATICAN CITY (RNS) — Pope Francis delivered his Easter message and blessing in an empty St. Peter's Basilica on Sunday, sending a message of hope for those affected by the coronavirus and challenging world leaders to work together for the common good while addressing the pandemic.
"Dear brothers and sisters, indifference, self-centeredness, division and forgetfulness are not words we want to hear at this time," Francis said after the morning Easter Mass at St. Peter's Basilica on Sunday (April 12).
"We want to ban these words forever!" he added.
In his message, the pope described a world currently faced "with epochal challenges and now oppressed by a pandemic severely testing our whole human family."
He called for a "contagion of hope," inspired by the Christian faith in the Resurrection of Christ.
COVID 19 PROTEST MATCH
ABUJA, NIGERIA
Protest in Gwagwalada over Hunger from COVID-19 lockdown
Some people decided to show their anger by taking to the streets despite restrictions placed on human movement by the government in Abuja and its environ over the Coronavirus pandemic.
At e
xactly 3pm this afternoon, these group of people took to the streets in Gwagwalada area of the FCT to protest over what they Hunger and lack they are suffering since the lockdown began a few days ago. They were chanting "we have had enough and we cannot allow ourselves to be killed by hunger.
The group asked the government to relax the restriction to allow them to return to their trading and other daily labour work that put food on their tables. In their language, they asked the government to "Allow them t
o go out and get our daily food"
Source: OPERA NEWS HUB
British WW Hero - Captain-Tom-Mooren
Second World War veteran Captain Tom Moore, 99, at his home in the Bedfordshire village of Marston Moretaine yesterday
Second World War hero Captain Tom Moore triumphed today as he completed the final 10 lengths of his garden on a zimmer frame – and raised a staggering £12million for the NHS during the coronavirus pandemic.
The 99-year-old, who has captured the imagination of the public with his heroics, finished the last few steps of his 2,530-yard walk at his home in the village of Marston Moretaine in Bedfordshire with a beaming smile.
Before Captain Moore started the final leg of his challenge in the morning sunshine today, he was saluted as he stepped out with his frame by four soldiers from the Yorkshire Regiment who had travelled to support him.
He was given a rousing greeting on the final stretch of his walk that has seen money donated from people in 53 countries. The Second World War veteran bowed his head and smiled as his chest of medals on his suit glinted.
OPINIONS:
Pastor Sunday Adelaja urges all Africans to apologize to Bill and Melinda Gates for speaking ill of their plans to help Africa amidst COVID-19
Pastor Sunday Adelaja, of GOD Embassy Church, in Ukraine, has asked Bill Gates and Melinda Foundation for forgiveness, because Africans across the world have criticized Melinda Gates for her statement of 'dead bodies in the streets Africa', which according to the Pastor was taken out of context.
Pastor Sunday Adelaja, 52, founder of one of the largest pentecostal churches in Ukraine, reacted to the report that Nigerian politician, Femi Fani-Kayode, sent a message to Melinda Gates with negative connotation over her comments that they will be dead bodies in Africa amidst COVID-19.
"My heart is in Africa. I'm worried. The only reason why the reported cases of the coronavirus disease in Africa is low now is most likely because there have not been wide testing of people. The disease is going to bite hard on the continent. I see dead bodies in the streets of Africa," Mrs. Gates said.
Melinda Gates in a recent CNN interview warned about the crisis facing the African continent, "COVID-19 will be horrible in the developing world", she said, citing there will be dead bodies in the streets of Africa like in Ecuador.
Pastor Sunday Adelaja urges Africans to tender an apology to the billionaire woman, her husband and the foundation for spreading fake news about them while they have spent over 25 years working for Africa. The clergymen further said that Africans owe the Gates an apology for rejecting their plans to bring a solution to help stop the spread of the virus in Africa because these are unfounded and lies spread against them.
"On behalf of our African, bother and sisters, I want to use this opportunity to ask for forgiveness from Bill Gates, Melinda Gates and their family, and the foundation to evil has been spoken against you without foundation, without reason, I am very very sorry, please don't hold this against us," Pastor Sunday said at the end of the broadcast.
FIREINTHEBONE: What did Melinda Gates say?
If this is the interview and the comments of Melinda Gates on the possible effect of the Coronavirus pandemic on Africa, The Newspaper headlines were misleading!
CORONA INVOICE: Germany sends China £130bn bill for 'coronavirus damages'
German Chancellor, Angela Merkel
GERMANY has rattled China after joining the United Kingdom, France, and the United States in a rare attack after Berlin called out Beijing's responsibility for the global pandemic and even issued a £130bn invoice.
The country has sparked outrage in China after a major newspaper put together a £130bn invoice that Beijing "owes" Berlin following the impact of the coronavirus pandemic. Germany has followed France, the UK and the US in directing its coronavirus anger at China, where the virus originated.
Recent attacks come amid findings that Beijing appeared to cover up the true scale of the crisis, as the source of the outbreak remains a mystery. On Saturday, Donald Trump warned that China should face consequences if it was "knowingly responsible" for unleashing the coronavirus pandemic. President Trump told reporters: "It could have been stopped in China before it started and it wasn't, and the whole world is suffering because of it. "If it was a mistake, a mistake is a mistake. But if they were knowingly responsible, then there should be consequences.
The UK has joined US intelligence officials in investigating claims that the virus originated in a Wuhan virus lab and not a wet market. According to Express, a bombshell op-ed this week in Germany's largest tabloid newspaper, Bild, joined this outrage by drawing up an itemised invoice for €149bn (£130b). The list includes a €27 billion charge for lost tourism revenue, up to €7.2 billion for the German film industry, a million euros an hour for German airline Lufthansa and €50 billion for German small businesses. Bild calculated that this amounts to €1,784 (£1,550) per person if Germany's GDP falls by 4.2 percent, under the title "What China owes us." China responded by claiming the invoice "stirs up xenophobia and nationalism".
Bild Editor-in-Chief Julian Reichelt rebutted the criticism, saying: "We asked in our newspaper Bild whether China should pay for the massive economic damage the coronavirus is inflicting worldwide. "Xi Jinping, your government and your scientists had to know long ago that coronavirus is highly infectious, but you left the world in the dark about it. "Your top experts didn't respond when Western researchers asked to know what was going on in Wuhan. "You were too proud and too nationalistic to tell the truth, which you felt was a national disgrace."
Source: Vanguardngr
FIRE...