AMAZING CONFESSIONS
Introduction
We have here, two confessions made by two repented women, who served the devil as Queens and demonic gladiators in the past. The Lord had mercy on them and at the very right times, His mighty hand arrested the two women, one an Ondo woman, here in Nigeria and the other woman, a Zulu Witchdoctor.
The confessions are published as they are and the purpose is to show doubting Thomas-es that only Jesus Christ can save and protect them, and that in Him only, they have eternal life. Bella Ismail in Akure North Local Government Area of Ondo State who publicly renounced the fraternity after 14 years and has now accepted Jesus Christ revealed how she used satanic powers to destroy so many lives, together with a former governor in the Southeast who uses free things to initiate people.
Olipha Dube, a 34-year-old of Zulu origin, revealed that she had practised as a 'sangoma' or witchdoctor for many years, exposing some secrets behind the mysterious 'profession'. This is to expose the deception of Satan, who manipulate some people to believe that witchdoctors and herbalists have a solution to their problems.
Shocking Confession of a Powerful Witch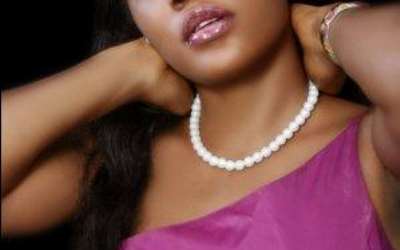 We use Free gifts, charitable foundations to Initiate people
A very powerful witch and a queen in the occult world, Bella Ismail in Akure North Local Government Area of Ondo State who publicly renounced the fraternity after 14 years and has now accepted Jesus Christ revealed how she used satanic powers to destroy so many lives, together with a serving governor in the Southeast who uses free things to initiate people.
Bella who said she had committed terrible sins with the dark powers the fraternity she served gave her opens up to newsmen about her journey into the occultic group. The former witchcraft Queen who rose to the rank of Queen of the people denounced her membership and burnt all the traditional deities she had served when she was a witch said, 'I give glory to God for saving me and making me be alive today. The Lord Jesus has arrested me and saved from an evil association with Satan. I was a witch, a powerful one for that matter. And I am well known in Akure of Ondo State.
'But today, God has taken me out of the darkness'. Bella declared while denouncing her old association before his people who trooped out to see their once dreaded occult queen now wining and dining with Christians. 'Many people in Olaedo are surprised to see me with members of God's Intervention Ministry and other Christians today because they know who I was. They know about the tremendous power I wielded as a Queen in the occult kingdom.
On why she joined the occultic group, Olaedo, the 37-year-old Bella said: 'I wanted powers to face the mighty and powerful people who control the society. To do this, I met a friend who is among those that make things to happen in Jos government house. To get me in, she introduced me to a family where every member had sex with me, both the male and female. The male who is all gay had sex with me. Then after, I was giving free materials like bags of rice to share with my people as a charitable means of helping them, but they are all to steal and destroy their destinies.'
Bags of rice
After her initiation, she had access to dreaded powers that not only made her very popular and prominent in Ondo State but also made many to fear and tremble before her. 'If I decreed that somebody would die tomorrow, that is what will happen. And if I decreed that someone would not sleep in his house the following night. It also would also happen. I was doing all these using the dark powers bestowed on me by serving the devil. Politically, if our candidate is vying for any position, we will make a large number of masses to hate the present administrator. It happened in Imo,' she revealed.
On how she got arrested by God through the church, God's Intervention Ministry, she said: 'I met a very sexy and charming lady I needed to have sex with. I started by taking up her bills in school, both paying of her house rents. It came a day when I invited her over to spend a night at my place. She came and at midnight I tried undressing her, but she woke up shouting Jesus for rescue. Then, I lost hold of myself by fainting. Along the line, I woke up seeing myself in this Church. I've come to know that the only most powerful, who can protect me surely is Jesus Christ. And I'm happy to have accepted Jesus Christ as my Lord and saviour.'
Furthermore, she advised that parents should not backslide in taking responsibilities of what they ought to do for their children, as it has become imperative that the devil uses free means to trap people's destiny. She said in the occult world, they developed programmes like Charitable Foundation, scholarship to students, disbursement of food materials and few others to attract young people into the fraternity for initiation.
'All over the States in Nigeria, we have been able to create ideas of attracting young people to get their destinies. In one of the States in the Southeast, one of our agents introduced a Foundation where students will school for free; and to extend hands, he provides study materials like bags, sandals, uniforms and books to them. While enjoying their stay on the basis of Free Education, we will as well in our kingdom destroy their destinies.
'That is why most times they graduate without a job or a better career. Even in Jos, we also have another major school there. One regrettable thing is that most of these students have been converted into homosexuals, as their school teachers are even our agents who harass them sexually. I used to be a lesbian before my deliverance in this Church. We the females hardly have good homes, as we are everyday quarrelling with our husbands, to the level that we will tender for a divorce.'
On how they manage to sustain protection, she made an example with one of the Southeast governors who went and buried some spiritual stones and head of cows in major junctions of the State, so to make life miserable for its citizens.
'The more things get difficult for them, the more he gets empowered spiritually into dealing with his opponents and acquiring more wealth for himself. Also, we introduced a spiritual white powder which before meeting people we rob it on our faces; this will make them love us more even when they have great complaints and grudges against us.
Another one is a muffler which our member in politics hangs round their necks before meeting people or going on camera. This will change their minds over all the negative things they have been seeing or hearing about us. And it will make them hate our oppositions the more,' she disclosed.
Confession of a Female Witch Doctor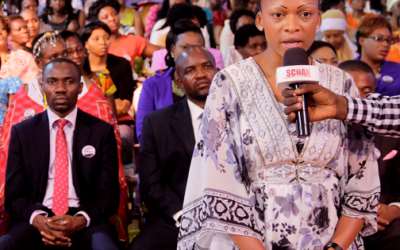 A lady at the centre of a sex scandal involving a prominent South African Pastor has given a shocking confession at a church in Lagos, Nigeria following her 'deliverance'.
Olipha Dube, a 34 year old of Zulu origin, revealed that she had practised as a 'sangoma' or witchdoctor for many years, exposing some eerie secrets behind the mysterious 'profession'.
"This is the time to expose the kingdom of darkness and what the devil is doing in so many people's lives by deceiving them to believe that witchcraft, witchdoctors, herbalists and traditional healers have a solution,"Dube emphatically began after a clip showing her 'deliverance' was shown to church congregants.
The clip showed the pastor praying for Dube, upon which she violently reacted and an uncanny voice spoke out through her, identifying itself as 'the great lion'. "I have given her too many powers," the 'spirit' confessed. "I make her do anything I send her. I have given her wisdom to do what I want her to do, to break people's marriages, to break homes. She is a witchdoctor."
Olipha explained that her professional nursing career inexplicably nosedived, prompting a friend to advise her to seek 'alternative' help. Following consultation at a herbalist home, the response she received from her creepy counsellor was an unexpected one. "He told me I had a gift from the ancestors and I was supposed to be a sangoma myself," she recalled. "I agreed. At that time, I thought it was a solution."
After going to an 'initiation school', incisions were strategically placed throughout her body with several darkish substances known as 'muti' rubbed in so as to infuse with her blood. "Those charms are to give you powers to see what other people don't see, powers to be able to communicate with the spiritual world," she explained.
After starting her practice as a traditional healer, the thirst for deeper knowledge and more advanced powers spurred Olipha to pass through another 'initiation'. "I paid a lot of money and he taught me how to use plants, herbs and trees – to mix them with animal parts – to produce whatever charms you wanted to," she divulged.
Olipha built an altar in her bedroom, as well as erecting a house in her garden dedicated to paying homage to her 'ancestors'. "You would use that to store your charms and for consultation," she explained. At this stage, her daily life literally revolved around witchcraft. "Before I could speak to anyone in the morning, I had to speak to the ancestors at my altar... They would tell me how my day was going to be like - the challenges I was going to meet, the people that would come and see me, the charms to use to be able to succeed through the day."
Dube said she had to maintain a constant connection with these 'ancestors'. "I had powers in my eyes, tongue and all over my body," she told the shocked congregation. "If you take a look at my body now, I have incisions everywhere, even in my private parts."
She described the services of a witchdoctor as a 'one-stop-shop' where you are "expected to provide solutions for a variety of problems". However, everything came with strings attached. "There is no consultation for free. We would first throw the bones on the floor and get the information we want about the past, present and future. If the person really wants the problem solved, we would move to the next level where they would have to pay. The deeper the problem, the more the money."
Citing an example of a 'love-charm', the former sangoma explained how she would use plants to create attention and an animal to produce affection. "In this case, I would choose a female dog," she revealed. "We would wait for the time of mating to capture the dog. At that time, the dog is enraged and uncontrollable. You would remove the parts you require from that dog, dry them in the sun and mash them."
According to Dube, if people consulting witchdoctors knew the contents of the charms given them, most would run for their dear lives. "When people come, they just see powder – they don't know that this is actually an animal. We would make an incision, put that animal together with other charms in the person's body, in their blood. That is going to produce the effect of the behaviour of the dog in that person's life. When the man she wants to marry sees her, something will just happen to him and he will lust after her."
However, there were serious side-effects! In this particular instance, Dube explained, after a short-lived romance, hatred would set in leaving the relationship in tatters. "At that stage, that is when people start moving from one witch doctor to another because they think maybe your charms are not powerful enough. The more they go to witchdoctors, the more they use these charms, the more they go deeper and deeper into their problems," she revealed.
Explaining the rationale behind this, Olipha explained, "The aim was to get people hooked. Once a person gets hooked, it's impossible to get them out… The more you hunt for greater power, the more you expose yourself into deeper problems. You would even get to a level where you would go to those traditional healers who use human body parts to create charms."
Revealing more about an increasingly a common complaint in churches today - having sexual encounters in dreams - Olipha stated, "One of the best ways to create a problem in a person's life is to get either a spiritual husband or a spiritual wife. This was best done in a graveyard, the former spiritualist sensationally told the stunned crowd.
"If you wanted to raise a spiritual husband for a woman, you would randomly select any male grave, looking at the name of the tombstone. Most importantly, you would have to buy this spirit. I would tell the spirit – 'As from today, you are married to 'so-and-so'. You are going to stay with her and perform all the duties a husband does to and for his wife.' Soon afterwards, my client would come to me and say, 'I am very happy – their life is in shambles. She lost her job. Her husband left her.' "
However, despite touting herself as a 'solution-provider' to others, Olipha was beset by crippling financial challenges. "I lost my business and all of my assets. I was very upset, bitter and angry and decided it was time for me to find something else but I had not made the decision to find God because of the Christians that were also coming to me for consultation. I saw all Christians as fake. I went to a lot of other herbalists, traditional healers and witchdoctors. Instead, my situation got worse and worse until I lost everything."
At this point, Dube visited the controversial South African Pastor Mboro of Incredible Happenings Ministries to seek 'deliverance'. However, their relationship soon grew sour as Dube publicly accused him in the popular South African tabloid newspaper 'Sunday World' of abusing her and 'exploiting' her personal problems for his own gratification, resulting in a contentious court case.
In the midst of this, fear steadily welled up within Olipha. She wanted to get out but the ethics of her 'profession' did not permit backtracking! "I was living in constant fear," she stated. "I even gave my car away because I was too scared to drive. These spirits were always telling me that I was going to die. I knew that they were after my life."
Growing more desperate and steadily losing hope, it was at this point that one of her 'students' directed her toward a Christian station called Emmanuel TV. "I was shocked. I saw people manifesting, talking about the very same things we would do to other people. I saw Prophet T.B. Joshua commanding the spirits to go out in one word. I saw people with the same problem that I had been helped and knew that this was where my solution would come from."
Resolving to visit The Synagogue, Church Of All Nations (SCOAN) in Lagos, Nigeria, Olipha had a dramatic experience when she was prayed for. "As the prophet was approaching me, I felt this big force that was blowing me. I felt something deep inside my tummy shifting and shaking my intestines in an uncontrollable way." At this point, Dube said a voice within her instructed her to run as fast as possible away but something inexplicably restricted her movement.
"I just had to surrender right there. Before I knew it, this lady grabbed me, lifted me up and told me I was delivered," she stated. "Since the deliverance, I have this peace inside of me. I can sleep. I am just in tranquillity."
Olipha is packed with advice following her extensive sojourn in the world of darkness. "I have a lot of advice. Firstly to Christians – 'If you want to be a Christian, be a Christian'. People who go to traditional doctors and herbalists – hear it from me – there is no solution there. You will finish your mo

ney and at the end of the day, it will eat up even things that you did not get through them. There is no solution through herbalists, traditional healers or witchdoctors. The only solution is Jesus Christ."
The advice here is for people to be patient with God. If caution is applied to difficult situations of life, a better and durable solution will be found. Children of God should avoid shortcuts, they are traps to enslave people.
God is the author of life and solution to every life's problem is also found in God. The scriptures has many advice that delivers and sets people free. In addition, we have the liberty to ask in Prayer, what steps we should take to get out of a bad situation. So, let's take every matter to Him in prayer, without doubting anything.
1. Accept Jesus Christ as the Lord and Saviour of your life.
3. Settle your past and live a holy life unto the Lord
3. Let flesh die in your life - Worldliness, pride, envy and greed
4. Study the Word of God daily
5. Have strong faith in God.
6. Fast as often as you can.
7. Share the gospel with others, win souls for Christ.
8. Ask what you want, and I shall be granted unto you
Jesus Christ is the solution to all the problems of life. If you are willing to receive Him as your Lord and Saviour, He will help you.
Don't wait another day, receive Him today!