Nneoma Nkechi Okorocha, the former first lady of Imo state still remembers her school days. After leaving the statehouse, she decided to return to her school for probably a re-union visit.
Nneoma Nkechi Okorocha and her friend
Nneoma Nkechi Okorocha was all smiles as she rocked a school uniform with her colleagues as they celebrate their present good fortunes and their past.
Ex-Governor Rochas Okorocha, her husband is a two-time governor of Imo State, who is now in the Senate of the federal republic.
Significance of Going back to school - ALUMNI
The purpose of going back to School, whether University or Secondary school is to support the management of the school and encourage current students of the school to be hardworking and commit to excellence in their academic pursuit.
The Alumni Associations that coordinates such activities spend a lot of time and resources reaching old students and encouraging them to give back to their former school, their time, skill and resources. Thus, the association is to foster f loyalty and to promote the general welfare of the school.
Alumni associations exist to support the Parent/Teachers Association in their effort to make the school conducive for learning and excellence. The two strong requirements for a vibrant Alumni Association include:
1. Enthusiasm
2. Willingness to contribute to the progress of the school, especially in the areas the school needs help.
3.
Willingness to work with School management.
4.
Ability to motivate other Alumni members to support the agreed activities financially and morally.
Association can be formal or Informal
An association can be a formal organization with officers, a set of objectives etc. There is no standard constitution for associations. If they will want a formal Association, they will have to apply to CAC, with complete legal documentation, their agreed constitution etc.
The Ex-Governor's wife thus fulfilled the conditions of an active Alumni of her former school, by going back to the school with two other women and friends of her.
MARRIAGE PROPOSAL - The right way
Important Marital Steps before Proposing:
How should a Christian brother propose to his beloved Christian fiancé? It should be simple and honest. It is part of the foundation building scheme for the marriage and there should not be any lies. Let Christ, love and truth be at the centre of it all.
Important Steps before you Propose
1. Ask her father's permission. Biblically, her father is her protector until you two tie the knot. Make sure he gives you his blessing! Do not bye-pass the father for her mother, brother or uncles.
2. Make sure you are in love with her and that you are ready for marriage. Don't propose when you are not yet ready. You may be setting yourself up for a fall.
3. Visit the family several times to understand how they live and what is important to the parents of the lady. Do a spiritual scanning of the family, find out where they belong, to the kingdom of God or to the world.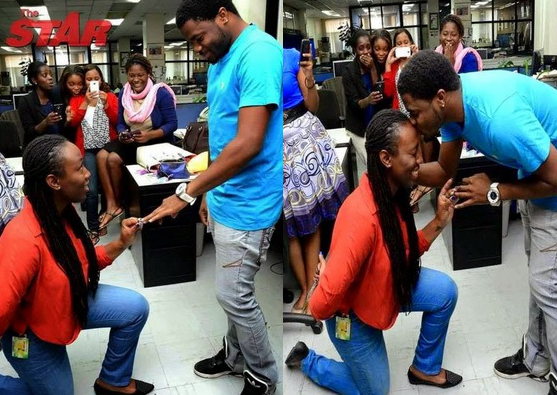 This is how it should be...Ladies accept you man as the head.
4. Even if you are rich, take a cab or simply visit them in a simple way and interact with the members of the family. Know how friendly they can be, how hospitable they are. These two things will play out in your marriage later.
5. On a hilarious note, observe your mother in law very closely and know that her daughter has a 90% chance of looking like her mother down the line, after having children.
6. Finally, when you get to that moment when you're expected to propose if she decides to demonstrate her humility (As the ladies above) did allow her to do so.
International Children's Day: History and significance
HILARIOUS -
Diamond Bank staff marking Children's day:
Significance of International Children's Day
In the year 1954, the International Child Rights Day was established. The vision of this International Children's Day Was given by Krishna Menon. This day is celebrated to promote international solidarity, awareness of children and welfare of children.
November 20 is the day chosen by the United Nations General Assembly for the rights of the child in 1959 and in 1990, the United Nations declared it as the World Child Rights Day.
The 'International Children's Rights Day' or 'Universal Children's Day' is celebrated by the United Nations on 20 November every year. This day is also called "Childhood Day", 191 countries of the world have accepted the criteria set by the United Nations General Assembly and have expressed their awareness about children's rights.
Main objectives include:
1. Seek mutual cooperation and harmony among children around the world.
2. Child welfare works can be articulated for children of the world.
Additional pictures of Diamond bank staff: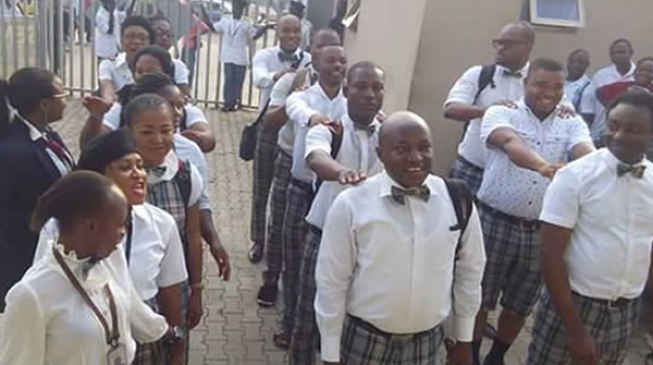 Diamond bank staff again, remembering their school days
Final exams and Wedding on the same day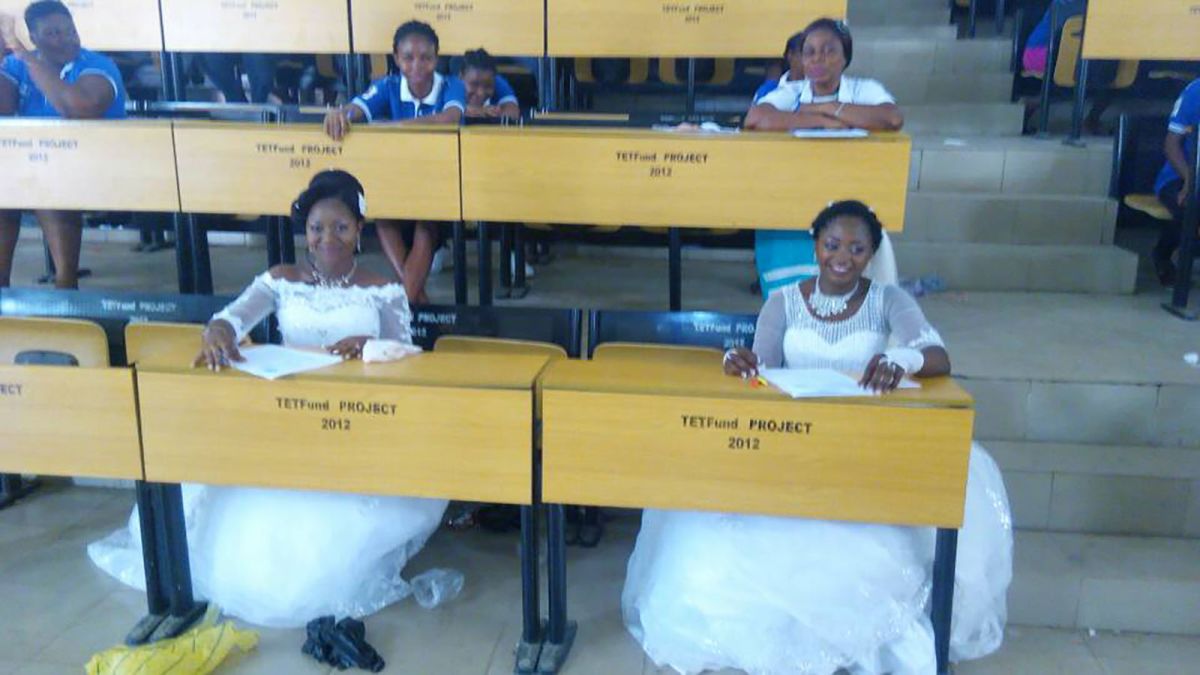 Dorcas Atsea and Deborah Atoh
The importance of education cannot be overemphasized. This is what the two Nigerian ladies are telling the younger ones when they both decided to tackle the clash in the date of their wedding and their final exam headlong.
Dorcas Atsea and Deborah Atoh,
who both study Mass Communications at Benue State University, in Nigeria had picked their wedding date in advance, thinking all their college work would be over.
However, they found their final year Media Ethics and Law exam had been moved from its original date in February and rescheduled for the day that they planned their nuptials.
Neither the weddings nor the exam dates could be rearranged, so Dorcas and Deborah exchanged vows with their respective partners in the morning, sat their exams at midday in their bridal dress and then went on to their receptions.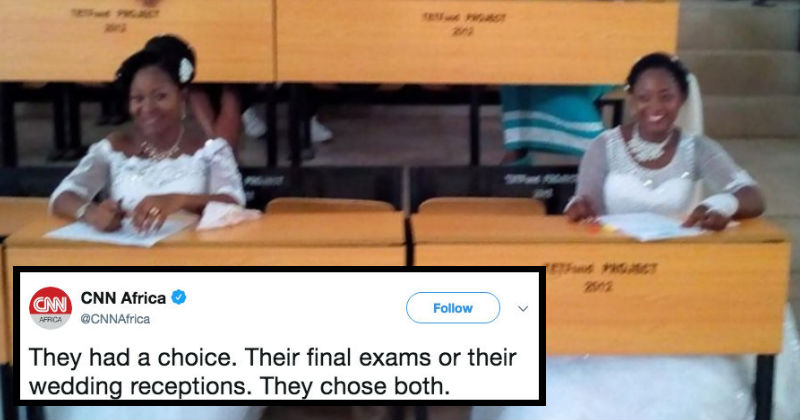 The pictures here show the two brides sitting their exams in their wedding attire. Fireinthebone have always advised young ladies to prepare for marriage, instead of the wedding.
Wedding is an event that takes less than three hours, while marriage lasts till death do you part.
CONCLUSION
We all have one life to live, so live it righteously and happily. The stories in these pictures showing the ease with which Nigerians live their life, explains why Nigeria was once declared to be the happiest people on earth.
Let's continue to love one another.