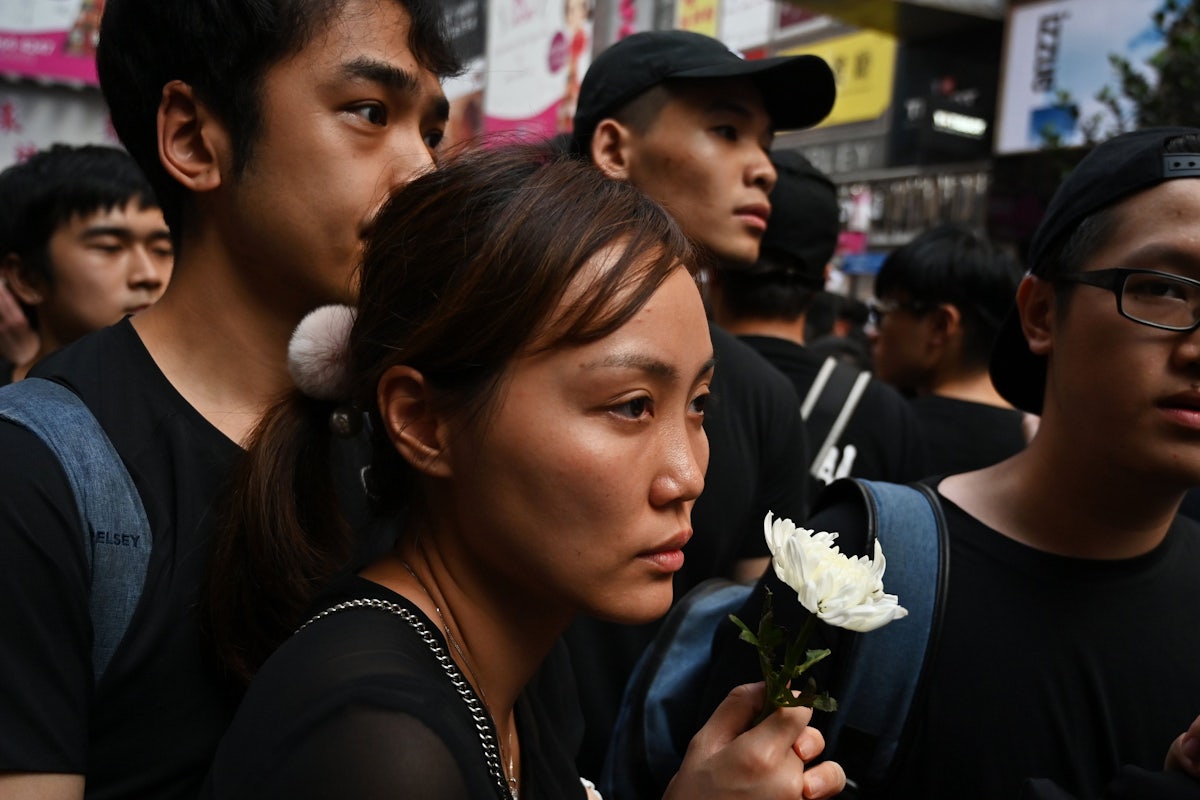 The government of Hong Kong on Wednesday formally withdrew an extradition bill that started the violent protests around the country, that has lasted over three months.
The protests began in June over plans that would have allowed extradition from Hong Kong to mainland China. The protesters feared this law would return Hong Kong to the Chinese government through the backdoor, so they even had to extend their demands beyond the Extradition law to include demand for democratic reform.
"The government will formally withdraw the bill in order to fully allay public concerns," Hong Kong Chief Executive Carrie Lam said. "Our foremost priority now is to end violence, to safeguard the rule of law and to restore order and safety in society."
The bill, which officials claimed would make Hong Kong safer, would allow any country to request extradition from Hong Kong, including mainland China, according to the BBC. The controversy ensued because many believe that people would "be exposed to China's deeply flawed justice system, and it would lead to further erosion of the city's judicial independence."
Hong Kong leader Carrie Lam
Though the bill has officially been withdrawn, protesters are still not satisfied.
The territory has a history of receiving and accommodating migrants and dissidents fleeing instability, poverty or persecution in mainland China, and so the protesters feel the extradition bill if passed, would bring the territory closer under China's control. "Hong Kong will just become another Chinese city if this bill is passed," says one protester.
Hong Kongers have described legal, social and cultural differences, and says, the fact Hong Kong was a separate colony for 150 years, is the reason for why they don't identify with their compatriots in mainland China.
Pro-democracy lawmaker, Claudia Mo, stated that not all of the protester's demands have been met.
"[Lam] has been fast asleep these three months, this is just absurd," she said. "The scars and wounds are still bleeding, and she thinks she can just use some garden hose to put out the hill fire. This is not acceptable." Lam, however, believes the protests are a threat to Hong Kong's "one country, two systems" policy with mainland China, positioning Hong Kong in a "highly vulnerable and dangerous situation."
Starting in June, the protests halted the airport; delayed schools; and, concerned the stock markets.
Joshua Wong, a youth activist fighting for democracy, believes the protests are only the beginning of a fight for fairness.
"I hope the people in China can understand that democracy, freedom and human rights are universal values that Hong Kong people are fighting for," he said in Taipei, Taiwan to journalists at a forum. "We will continue to fight for it. I hope there is one day that Hong Kong and even China would become a place where people can enjoy democracy and freedom."
Lam, whose resignation is among the protester's demands, which have not been met as Lam insists she is not ready to resign, saying her government would pull Hong Kong out of the troubled waters. The protesters say she was elected by Hong Kong elites in support of mainland China.
Other strong reasons for the Protest
1. The high cost of Accommodation
2. The high cost of Living
3. Fear of job scarcity - Unemployment
4. Fear of China
One of the major problems facing citizens in Hong Kong is the unbearable housing cost. By its small size and high rate of urbanization, Hong Kong is one the most compact cities in the world, with no free space for development, leaving developers with only one option, the High rise buildings. These high rise buildings which serve as residence and office in many cases are expensive to build and maintain. The cost of accommodation is very high and it is not clear how the government can bring it down. The houses are owned by individuals and companies, who maintain them.
Tiny living spaces are common, some of the poorest living in cage homes - wire mesh hutches stacked on top of each other.
Fear of China and Oppression
Many Hong Kongers fear Beijing is eroding their freedoms and are angry at the city's government for failing to solve social issues such as unaffordable housing and poor job prospects. Under a "one country, two systems" formula adopted when Britain returned its former colony to China in 1997, Hong Kong has a high degree of autonomy and its residents enjoy freedoms that do not exist on the mainland. "The violence has been accelerating a lot. I think they (police) are really damaging the law and the legal system," said protester David, a 27-year-old accountant, wearing a black mask and clutching a sign saying "Free Hong Kong".
Police have fired live rounds and used baton charges and water cannons to quell the unrest. Two teenagers have been shot. Police fired 367 tear gas canisters over the long weekend when tens of thousands of protesters took to the streets. Apple Inc on Wednesday removed app protesters have used to track police, prompting some to say they may "visit" Apple stores in Hong Kong.
Hong Kong pro-democracy lawmaker Charles Mok wrote to Apple's chief Tim Cook urging the company to stand up to Chinese pressure and requested the app be restored. Mok said in his letter that the app "helps citizens avoid areas where pedestrians not involved in any criminal activities might be subjected to police brutality".
"We Hong Kongers will definitely look closely at whether Apple chooses to uphold its commitment to free expression and other basic human rights, or become an accomplice for Chinese censorship and oppression," Mok said in the letter.
Job Prospects
Besides calling for the protection of their civil liberties, many young protesters are also incensed at Hong Kong's widening inequality, sky-high property prices, and poor job prospects.
The Asian financial hub is facing its first recession in a decade, but it boasts the world's most expensive property market, with prices rocketing over 200% in the past decade, driven by limited housing supply and mainland Chinese buyers.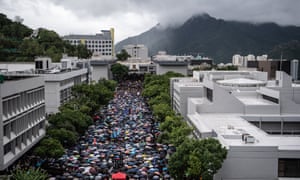 Hong Kong protesters vow to stay on the streets
Demonstrators say withdrawing extradition bill is too little, too late, as the call for an inquiry into police force rejected Hong Kong's leader withdraws extradition bill that ignited mass protests. Since June, there have been protests almost every weekend, many turning violent. Smaller scale clashes have happened nearly every night in various districts in recent weeks. Police on Wednesday said 1,183 people had been arrested since 9 June.
Joshua Wong, a high-profile protester who was arrested along with a number of activists last week, said "the intensified police brutality in the previous weeks have left an irreversible scar to the entire Hong Kong society" and was the reason many people did not believe the bill withdrawal was "a sincere move".
Inside Hong Kong last week, Shopping malls closed early on Thursday to avoid becoming targets of planned protests and the city's metro, which has borne the brunt of violent unrest in recent weeks, shut three hours early.
By mid-evening protests had failed to materialize in any sizeable form, with some 60 demonstrators gathering outside one police station. In contrast to massive daytime rallies, night protests generally see a few hundred demonstrators stages scattered events, often late at night.
Four months of large and often violent pro-democracy protests in Hong Kong slowed down business activities, travells and general movements within the city. Recently, we have seen Taxi Drivers and other social services providers saying there is no business. That statement means the impact of the faceoff is beginning to affect the ordinary people in Hong Kong.
This fear is aggravated by a report by a reputable Rating firm that Billions of Dollars, in business inflow has been diverted from Hong Kong to Singapore, another former British colony in the East.
Last week, during China's Golden Week holiday, which started on Oct. 1, lines for rides at Disneyland were refreshingly short. Malls normally thronged with shoppers were closed for several days. And some of the city's priciest restaurants, rattled by empty tables, were offering deep discounts.
Sales at the store, in the once-teeming shopping district of Tsim Sha Tsui, have plummeted 90 percent in recent months, thanks in large part to the evaporation of tourists from mainland China who have been staying away since anti-government protests began in June. "It's quite worrying," said Mr. Tam, 56, who relies almost entirely on commissions for his income. "I don't know how much longer I can endure."
Meanwhile, the government of Lam has reacted to comments on the No Mask Policy law rolled out recently, saying the intentions are to stop violence and make protesters accountable.
The government said on Thursday it would not take any further measures to counter violent protests and rejected rumors that mainland Chinese security forces were involved in the city.