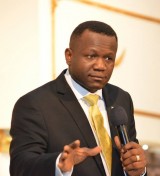 1. No man can be godly without the Word of God...
2. And without the Holy Spirit.
Introduction
To be a godly man is not an easy assignment, but that's what God wants us to be. If you were to see Apostle Paul on the street, you would not have seen anything significant in Him.
Some of his sons in the church were saying that his boldness in the speech was different from his bodily appearance, meaning that he was bold in his letters and Epistles to the church, but when he is there in person, he looks frail. He may have looked feeble in their eyes, but he was powerful in the Lord and in the things of God. That can be a simple image of a godly man.
A man that is pursuing the will of God in his life and family, a man that is praying for the salvation of souls, goes out to win souls and offers help to people in need. A man that fears the Lord and obeys His word and His voice irrespective of the physical challenges, a man who will vow to his own hurt and fulfil it, such a man is not easy to come by.
A man who is in control of his emotions and his thoughts, his tongue and his desires. A man who refuses to get angry, no matter what you do to him, a man you will insult, abuse and probably even slap in error and he will not respond with a return slap. Such a man is not easy to come by, such is a godly man!
Characteristics
A godly man is a man focused on heaven, he has no strength to fight with men, he has no time to struggle with men and women or to seek for a worldly position. He knows where he is going, he knows the assignment of God upon his life, and the bible says that as soldiers do not entangle themselves with the affairs of this life, so it is for a godly man.
He is committed and devoted to the things of God and His assignment. Such a man is not only humble and broken, but he is also dead to the things of the flesh. And what will you do to a dead man? If you are so angry with him and threaten to kill him, he tells you he is dead already.
Contentment is another important thing you find the life of godly men. Never lethargic, but contented. May not have everything they need, but never greedy. Ever thankful to God for his mercies and blessing, full of the joy of the Lord and faithful to God and man. Friends, a godly man is never alone, the glory and presence of God surround him. He is also tempted and frustrated, but after crying to God, he would return to continue his walk in the Lord, such a man has the seal of Christ in him.
His Strength and Hope
No one can be godly without the word of God and the Holy Spirit. So, a godly man loves the word of God and treat it as instructions written for him. He believes the word and obeys them. Each time he comes across an instruction in the bible, he knows it is the will of God and decides to obey and do it. Many of the godly men of the past staggered along the way, not knowing what to do and the will of God in certain issues, but today, we have the Word with us and it contains the will of God. A godly man loves the word and through the study of it understands the God who created us, His ways and instructions.
The first step in becoming a godly man is to surrender to the lordship of Jesus Christ (John 14:6). Anyone can learn rules, follow laws, and judge themselves harshly, there is no problem with that, but we cannot become godly without the Holy Spirit transforming our mind and heart to follow the Lord. It is followers and disciples of Christ that do His will, and that is why you must be born again and receive the gift of the Holy Spirit before you can seek to please God.
Godliness is the result of faith in Christ, obedience to His word and walking in the spirit. Godliness is more than external behaviours; it is the walking in accordance with the word of God, doing His will as a lifestyle that people know you with. When you can achieve these, though you are not seeking people's approval, people will see your good deed and praise the Lord for raising a man like you.
Life is no longer about pleasing himself but about pleasing his Lord (Romans 13:12–14; Hebrews 12:28). The godly man knows he will still stumble as he strives toward holiness (James 3:2), but his goal is to be holy as His Lord is holy (1 Peter 1:16). He is able to understand the deep things of the Spirit (1 Corinthians 2:9–10).
His Attributes
No one starts the walk with Christ as a saint and holy...NO! But as you obey His word and amend your ways, as you study and meditate on the word, learn His ways and decide to walk in them, the Holy Spirit strengthens your hands and make you bold and strong. The godly man stumbles and falls severally until he understands that he cannot live holy by his strength, but by the help of the Spirit of God.
Whenever he gets to this realization, he begins to seek to know the person of the Holy Spirit and to cooperate with Him to amend his ways and yield his whole life, body, soul and spirit to the Lord. That is when his walk with God begins effectively.

A godly man is one who has died to his flesh (Galatians 5:24). He has no confidence in himself but relies on the power of the Holy Spirit. He makes no provision for the flesh and he deliberately removes every snare that could make him fall into error and sin.
A godly man does not retain the pictures of his Ex-girlfriend after marriage. He does not keep her pictures anywhere around him, neither her address nor her contact phone number. He does not make provision for the flesh, because such error is a snare of the devil to re-open a relationship after a while with that lady later in life.
A godly man keeps his heart pure, he:
• repents when he sins (1 John 1:9)
• considers himself dead to sin but alive to God (Romans 6:1–4, 11)
• seeks to remain humble rather than exalt himself (Proverbs 27:2)
• leads by example (1 Timothy 4:12)
• (if married) loves his wife as Christ loves the church (Ephesians 5:25)
• lives in sexual purity, honouring God with his body (1 Corinthians 6:18; Romans 12:1–2)
• seeks to be continually filled with the Holy Spirit (Ephesians 5:18; Act 13:52; Galatians 5:25)
• desires to please the Lord more than himself (2 Corinthians 5:9)
Do you want to be a godly man, then you are reading the right material and my prayer is that God will draw you closer to Himself in Jesus Christ's name. A godly man lives by faith and walks in Spirit and worships the Lord and offers spiritual sacrifices unto the Lord. I will like to mirror the godly man in marriage in this message, while taking the other aspects of the godly man's life like in the church, his society, to his employers and business partners another day.
God established marriage between a man and a woman and blessed it. marriage has a lot of challenges that do easily overwhelm people, at least in the beginning. They are consumed by love for each other and many times forget God, who is the head of the church and their new home. There is the world and all its attractions, it entertainment, fashion and pleasure that can easily distract a young couple. There is money and how to get it, to satisfy the everyday demands of the family. There is family members from both sides, as well as friends, the on-lookers and the spectators around the newly married couple that could put enormous pressure on the couple.
But in the midst of all that, a godly man is able to maintain his personal vows unto the Lord and to his spouse. He is able to prioritize his time and money to the right places and things. He is not moved by what other couples, young and old are doing around him. Here are some tips on how the godly man serves the Lord in his marriage and family. He orders his lifestyle after Christ:
1. He loves the Lord above all else, even his wife.
The worse thing a man can do to the wife is to ignore her or stop giving attention to her. Women find e does not worship or idolize the wife because he knows the danger of such an error, he loves the Lord more than the wife. He also expects the wife to love the Lord more than him, as both of them are expected to be before the Lord in the church and at home.
Loving God above all else means that we seek to establish a closer relationship with him. This is done by reading his Word, prayer, and fellowship with other believers.
One way to make your wife or husband an idol in your life is to care more about what makes them happy, than what makes God happy.
Remember, we have no other God, to run to except the Lord, we should never have any other God before the Lord. Many men fall sick the moment their wives fall sick. They will abstain from fellowship, evangelism and other meetings of the church till she recovers.
2. He loves his wife dearly
The Lord says "Husbands, love your wives, just as Christ loved the church and gave himself up for her …" (Ephesians 5:25). This is a specific command and an important aspect of the marriage covenant. It goes to the heart of the marriage as ordained by God. The way that you love your wife should be a reflection of how Jesus loves the church. Your wife should learn godly love, by the way, you love her, second only to the Lord.
What that means is that you should love your wife sacrificially. Christ loved the church sacrificially and gave himself up for her. Husbands will love their wives the way that Jesus loved the church when they live self-sacrificing lives in marriage and put their wives' interests and well being ahead of their own.
3. He is a Spiritual Leader
A godly man is the spiritual and physical head of the home. He is the one praying and fasting that the will of God be done in his family, in the life of his children and wife. That none of his children or family members would serve the devil, but rather that they love the Lord and serve Him from their youth. He is the one making sure the family has their daily devotion and prays together, he is the one making sure his word is his bond. He says what he means and means what he said, which must be the truth always.
Having family devotion and praying together is better started when the family is young so that it becomes a way of life for every member. I remember that we had an alarm clock that wakes us up every morning for the morning devotion. If after the alarm has gone you are still not in the Living room for the study, someone comes and wakes you up to join the devotion. Today, you need to pray for your children to embrace the intent and purpose of this morning devotion for it to work and fulfil its purpose. Also, you have to involve them, one person at a time, so they can prepare and participate.
4. He is humble and broken
He shows maturity in a lot of issues. He sees life differently, he is not selfish and proud, no matter his earthly position. He humbles himself before the Lord and men. At home, he is not a Pharaoh that dictates what will happen and what will not happen. He carries his wife and children along, teaching them humility by example, serving them when he needs to and receiving favor from the Lord.
If a man is dead to the things of the world, where will pride come from? The reason there is such a struggle at home is because the husband and his wife are not dead, they are still alive in the flesh and copying worldly standards and praying that God should bless worldly behaviours and patterns in their marriage, it won't work. This is why many believers are born again, but not yet 'sheeps'. They are goats, stubborn and difficult to tame. Many are so selfish and proud, when Philippians 2:3 says we should - "Do nothing out of selfish ambition or vain conceit, but in humility consider others better than yourselves"
5. He Provides for the family
The husband should bear the primary responsibility for the financial needs of the home. A godly man works hard and honestly to earn a good income for the family, meeting the needs of his wife and children. This is one of the naughty areas of marriage today, as many men are not able to meet the needs of the home and their wives have to support them or even bear the responsibility when such a man is out of his job.
The importance of providing for our families should not be missed: "For even when we were with you, we gave you this rule: 'If a man will not work, he shall not eat'" (2 Thessalonians 3:10). Paul is not talking here of those who earnestly desire work and have been laid off or are struggling to find a job. He is talking about those who are lazy. Thus he continues: "We hear that some among you are idle ... Such people, we command and urge in the Lord Jesus Christ to settle down and earn the bread they eat".
Again, 1 Timothy 5:8 says if a man fails to provide for his household, he is worse than a pagan. Unfortunately, this has become the lot of many married men, who lost their jobs and are unable to find another.
However, what is important here is that the man should be able to anticipate challenges and make adequate financial provision for it. When a man tries to get a new job without success, If you have tried to get a new job without success, then do something else. Start your own business and gradually grow the business.
6. He brings his family to Christ
Parents are exhorted to bring up their children in the fear and admonition of the Lord. In Deuteronomy 6:6-7, the Lord says: "These commandments that I give you today are to be upon your hearts. Impress them on your children." Fathers, in particular, are commanded to instruct their children in the ways of the Lord: "Fathers, do not exasperate your children; instead, bring them up in the training and instruction of the Lord" (Ephesians 6:4).
Godly fathers are not dictators who need to prove their authority all the time, instead, they are focused on helping their children to understand who the Lord is – they want their children to know that God's ways are good ways and that his commands are for their good.
7. He is actively involved in a Local Church
The church, when it is pastored by a man that loves the Lord and fears Him, is a holy place and God's house. The church is a place of divine encounter with the Lord and the joy that envelopes you in the house of God cannot be seen anywhere else. A godly man cultivates fellowship with God together with his household. Loving the Lord should be such an important thing to you, a godly man that you will hardly miss your church activities and meetings.
To serve God actively in a local church is not an option for a godly man. It is a command in Hebrew 10:25 to be precise. It says "Let us not give up meeting together, as some are in the habit of doing, but let us encourage one another, and all the more as you see the day approaching" -Hebrews 10:25.