CLOSURE OF NIGERIAN BUSINESSES......FG Summons Ghanaian Envoy Over Failure to Reopen Nigerian Businesses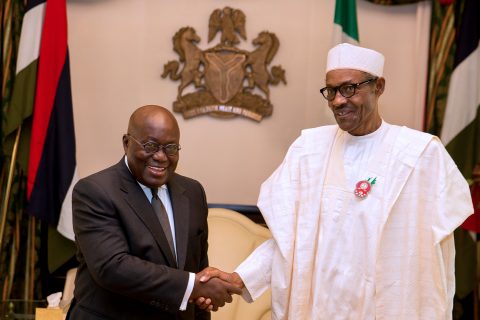 Nigeria's ministry of Foreign Affairs has summoned the High Commissioner of Ghana to Nigeria, Ambassador Rashid Bawa, over the continue closure of over 400 Nigerian shops in Ghana.
Foreign Affairs minister, Geoffrey Onyeama, on Friday, said the Ghanaian envoy was invited to give a definitive explanation on the treatment of Nigerian traders in that country.
The closure of over 400 Nigerian businesses in Ghana had sparked protest by National Association of Nigerian Traders (NANTS) and Nigerian Union of Traders Association Ghana (NUTAG).
Onyeama noted that a committee was being set up at the highest level in Nigeria to look into the matter and to look at how, as a government, to respond to the situation.
"And, we said as part of understanding of what the situation is now legally and factually to give this opportunity to brief us on the current situation," he said.
The Ghanaian envoy was invited to give the opportunity to brief us on current situation on the closure of Nigerian businesses in that country.
The High Commissioner in his response, said he visited the areas that experienced distress by Nigerian traders.
Bawa confirmed that about 80 to 85 per cent of shops that were locked had been re-opened and the exercise in still on going.
He said the Ghanaian authorities was also making efforts to ensure that Nigerian traders who were conducting businesses in Ghana were registered and had resident permits.
"I was in Accra at the invitation of the president to go have a look at what was happening on the ground. I spent two days on the ground, meeting with all stakeholders.
"Some of the shops at the time I visited ten days ago have been opened but some still have not yet been opened. Opening of shops are still on going as we speak.
"Those that have not been opened are locked because owners were not present at their shops. GUTA wants to open the shops with owners present.
"We these shops opened, I can say that about 80-85 per cent of shops that were locked have been opened. We insisted that before shops are open, the owners should be there."
The envoy also dismissed reports that a Nigerian in Ghana, Mrs Stella Upaleke, committed suicide because of frustration occasioned by the closure of her shop.
"I was with the regional police commander where the issue happened. The police statement, written by the husband and daughter of the woman, indicated that the suicide was not as a result of the lock up of her shop," he said.
FRIENDS, The Kingdom of heaven is at hand, Jesus Christ is coming soon. Where will you spend eternity - In heaven or Hell? God knows you, where you live and what you are struggling with. He wants to help you, if you will come to Him today.
Repent of your sins, believe the word of God and accept His son Jesus as Saviour and Lord of your life.
He will give you a new life, victory and eternal life.

Will you accept Him today?
Say this Prayer:
Lord Jesus I come to you as a sinner.
I am sorry for my sins, forgive me.
I believe you died for my sins, and was raised for my justification.
Come into my heart be my Lord and Saviour,
Give me the grace to serve You in truth and spirit.
Thank You for saving my soul - I am born again!
His grace be with you all.