BUHARI APPOINTS.......Son-in-Law as the Head of Nigeria's Border Communities Development Agency!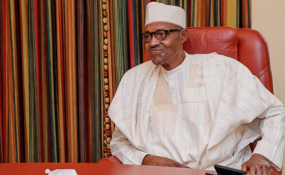 President Muhammadu Buhari has quietly appointed his son-in-law as the head of Nigeria's Border Communities Development Agency.
Junaid Abdullahi, a retired Army captain, assumed duties at the agency on a low-key on October 18.
He was married to Zulaihat, Mr Buhari's first daughter who passed away in 2012 from childbirth complications. She was 40.
Mr Abdullahi took over from Jummai Idakwo, the former director of the agency.
Such appointments are usually announced by either the Presidency or the Office of the Secretary to the Government of the Federation.
It was not immediately clear why both institutions kept a sealed lip over the appointment.
A government source who learnt about the appointment last month said it might have been hushed to save Mr Buhari the trouble of again being accused of nepotism.
The president has faced regular allegations of being sectional, with critics saying his appointments have been lopsided since he assumed office in 2015.
His critics often raise concerns about how most key federal appointments, especially top national security positions, have been ceded to northerners.
Last week, the presidential candidate of the Allied Congress Party of Nigeria, Oby Ezekwesili, said Mr Buhari was Nigeria's "most nepotistic" leader ever.
Mr Buhari has repeatedly denied the allegations, and often urged Nigerians to scrutinise his appointments, after which they are likely to reach a different conclusion.
Vice President Yemi Osinbajo has also said the administration's appointments are not lopsided, and suggested that more seats have gone to the south than the north under Mr Buhari.
It was not immediately clear whether Mr Abdullahi has remarried since the passing of Zulaihat, who was born with sickle cell anemia. Read the original article on Premium Times.
FRIENDS, The Kingdom of heaven is at hand, Jesus Christ is coming soon. Where will you spend eternity - In heaven or Hell? God knows you, where you live and what you are struggling with. He wants to help you, if you will come to Him today.
Repent of your sins, believe the word of God and accept His son Jesus as Saviour and Lord of your life.
He will give you a new life, victory and eternal life.
Will you accept Him today?
Say this Prayer:
Lord Jesus I come to you as a sinner.
I am sorry for my sins, forgive me.
I believe you died for my sins, and was raised for my justification.
Come into my heart be my Lord and Saviour,
Give me the grace to serve You in truth and spirit.
Thank You for saving my soul - I am born again!
His grace be with you all.