Models with Three Breasts Just Walked the Runway at....... Milan Fashion Week - End-Time!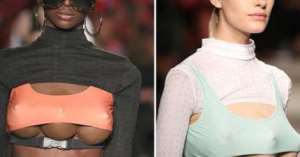 It looks like Halloween got an early start this season with lots of boo-bies.
On Saturday (Sept. 22), models took to the runway during Milan Fashion Week to show off the 2019 spring collection by designer Giuliano Calza, and onlookers had to do a triple take at the three-breasted models—no, seriously.
See for yourself the odd sight that had social media utterly confused.
So what's with the Italian label's choice to outfit their models with a third prosthetic breast to sport their neon bralettes?
According to an interview with WWD, Calza said it was a wake-up call.
"We're a young group here — we're all under 30 — and I wanted to talk to people our age about the future and get them thinking about plastics, water shortage, and the environment," he shared. "Full sustainability is impossible, and I wanted this show to be a wake-up call."
Although strange, it does make you think.
Friends, Jesus Christ is coming soon. Prepare to meet your Lord and Saviour clothed with spotless garment.
Repent of your sins, believe the word o
f God and accept His son Jesus as Saviour and Lord of your life.
He will
give
you a new life, victory and eternal life.

Will you accept Him today?
Say this Prayer:
Lord Jesus I come to you as a sinner.
I am sorry for my sins, forgive me.
I believe you died for my sins, and was raised for my justification.
Come into my heart be my Lord and Saviour,
Give me the grace to serve You in truth and spirit.
Thank You for saving my soul - I am born again!
His grace be with you all.