BUHARI IS CHANGE.......Atiku is Bureau de Change – Rev Fr. Mbaka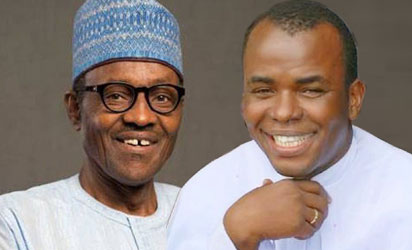 Rev. Fr. Ejike Mbaka the Spiritual Director, Adoration Ministry Enugu Nigeria has said that President Muhammadu Buhari is change, but former Vice President Atiku Abubakar is "bureau de change" just as he said that they were sharing the money in dollars and it was going out in millions of dollars in Nigeria where hunger is killing people; where you don't have food to eat.
Mbaka described Atiku as bureau de change, according to him, because of the foreign currencies that allegedly exchanged hands at the National Convention of the People's Democratic Party, PDP, before the ex-VP emerged the party's presidential candidate.
Mbaka speaking recently to his congregation at the Adoration Ground said "So let the will of God be done in Nigeria. It is like what I have been saying Buhari change or you will be changed" Osinbajo visits Bayelsa flood victims, says disaster is monumental "What will it take you; change the Chief of Staff, change B, change C, change this and change that; even if it will take 20 Igbo men or 20 Yoruba men to change Nigeria; take all of them.
Look at what (Chukwuma) Soludo did in the Central Bank; he has assured Nigeria and the whole world that there is nothing like bank collapse again. "An Igbo man did this, why can't Buhari take Soludo for the economic revival and revamping of Nigeria's economy? And you are busy talking about corruption, playing game with the lives of Nigerians from the issue of Fulani herdsmen to Boko Haram to Jos killings. You said somebody stole, what did he steal?
"Someday, they said the government has spent trillions of naira on social investment scheme and I want to know who are the people they were spending the money on; the Vice President said they are giving N10,000 to small scale businesses and I asked, is this how they will transform Nigeria? You give somebody N10,000 for business, what type of business will N10,000 start? "Somebody will have billions and want to take the one belonging to the public while hunger will be killing his people.
Look at the type of money they shared during the primaries to the extent that they brought Bureau de Change. They said Buhari is change, but Atiku is bureau de change. They were sharing the money in dollars and it was going out in millions of dollars in Nigeria where hunger is killing people; where you don't have food to eat.
"If they spend such monies to get ticket, how do you think that when they get into power they will rule, of course, they will first recover the money they have spent but the worst is that the money was not being shared to the poor,".
The Trying Triangle of Politics, Economy and Faith: Through the Eyes of the Needle, by Bishop Kukah "There are some people that sold their land to pay for this form because of the promise they were made. I don't think these politicians were thinking of heaven that is why they are ready to kill anybody that stands on their way,".
"If anybody is thinking that if Atiku becomes the President of Nigeria things will get better, 'who born you' because for this country to be good it is easier for a carmel to pass through the eye of a needle than this country to be good,"
"There are no people that will develop this country that are not in Nigeria. We have people who will develop this nation; but our President left the same type of people who don't have the same type of vision around him and everything they do is in your head.
"After you are removed, they will bring people that will flog you because you messed up the opportunities because you didn't listen to the word of God. You didn't listen to the man of God you have and you were disobeying him. "The price of disobedience is disgrace," he declared. Source:Vanguard
Friends, Jesus Christ is coming soon. Prepare to meet your Lord and Saviour clothed with spotless garment. He knows you, where you live and what you are struggling with. He wants to help you, if you will come to Him today.
Repent of your sins, believe the word of God and accept His son Jesus as Saviour and Lord of your life.
He will give you a new life, victory and eternal life.
Will you accept Him today?
Say this Prayer:
Lord Jesus I come to you as a sinner.
I am sorry for my sins, forgive me.
I believe you died for my sins, and was raised for my justification.
Come into my heart be my Lord and Saviour,
Give me the grace to serve You in truth and spirit.
Thank You for saving my soul - I am born again!
His grace be with you all.