AMBODE..........SHELVE YOUR SECOND TERM AMBITION - TINUBU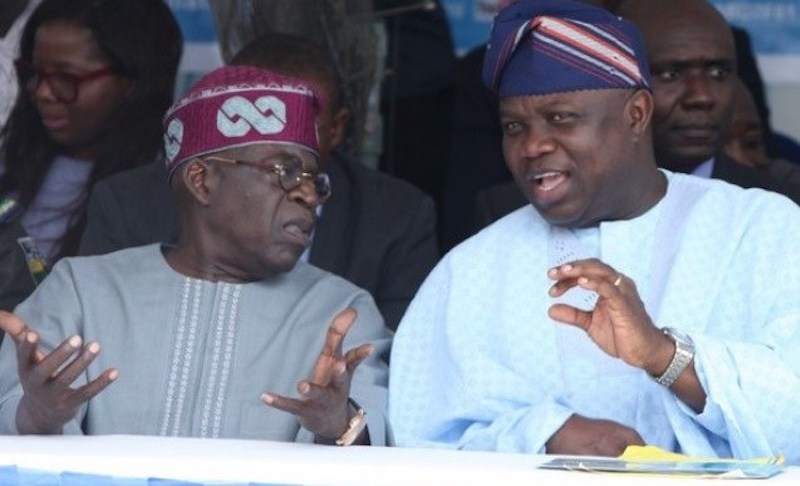 -
Tinubu has reportedly advised Ambode to shelve his second term ambition
- The governor is however insisting on the party direct primaries.
- Attempt by the governor's wife to pacify Tinubu reportedly failed
The national leader of the All Progressives Congress (APC), Asiwaju Bola Tinubu, has allegedly asked Governor Akinwunmi Ambode to drop his second term bid and endorse Babajide Sanwo-Olu.
The Punch reports that the Mandate Movement in the Lagos APC which is controlled by the APC chieftain is backing Sanwo-Olu. It was reported that despite pleas from notable politicians, Tinubu had refused to back Ambode. The wife of the governor, Bolanle, reportedly met with Tinubu in Osun to try and pacify him but the meeting failed to yield any result.
It was reported that APC leaders are mounting pressure on the governor to drop his second term bid but that the governor insists on going on with the direct primaries. "Ambode was told to step down and forget his second term ambition. He was told to publicly endorse Sanwo-Olu as his successor. He was promised a ministerial appointment after the APC might have won the presidential election.
He was even told to pick a ministry of his choice. "But Ambode seemed not to be pleased with the directives of the leaders as he declined the ministerial dangle. He also told them to allow the APC primary process to continue as planned. For now, the meeting is still continuing and there is no compromise in sight." Another source said:
"We told him that he might likely lose if he decided not to fight back, but he just smiled." Meanwhile, a top aide to Governor Akinwunmi Ambode of Lagos state on Wednesday, September 19, said the alleged suspension of the governor's second term ambition was a hoax.
The aide, who spoke anonymously, told the News Agency of Nigeria (NAN) that the news making the rounds that Ambode had shelved his ambition of a second term return to office, was untrue.
Fireinthebone.com noted that according to reports being circulated, there is no confirmation that the governor had decided after due considerations and consultations, to suspend campaign for second term as the executive governor of Lagos state.
However, the source who debunked the report, said it was a hoax, untrue and a totally false report. "The governor is still very much interested to continue his good works in the state. He means well for the state and he believes there is still a lot to be achieved. This he hopes to consolidate upon, if he is re-elected," the source said.
Friends,
give God praise for keeping you alive today. He knows your name, your address and what you are struggling with at the moment, and God will like to help you. But you will have to become His son/daughter.
Repent of your sins, believe the word of God and accept His Son Jesus Christ as Saviour and Lord of your life.
In a world that is full of trouble, Jesus will give you peace, victory and eternal life.
Will you accept Him today?

Say this Prayer:
Lord Jesus I come to you as a sinner.
I am sorry for my sins, forgive me.
I believe you died for my sins, and was raised for my justification.
Come into my heart be my Lord and Saviour,
Give me the grace to serve You in truth and spirit.
Thank You for saving my soul - I am born again!
His grace be with you all.