POLICE CHIEF SACKED......For not Curtailing Prostitution!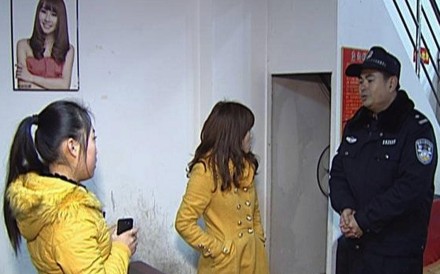 File
Guangdong party authorities sacked Dongguan deputy mayor and police chief Yan Xiaokang yesterday for failing to curb rampant prostitution in the industrial hub.
"During Yan Xiaokang's tenure as Dongguan's deputy mayor and public security bureau chief, he did not carry out his duties properly. As a result, the illegal activities of prostitution continued despite several crackdowns, and it has had an extremely bad impact inside and outside the country," CCTV reported the Guangdong party committee as saying.
Yan, 50, was made deputy mayor in 2008 and appointed police chief in February 2012. He will be replaced by Yang Jianghua, the head of criminal investigation for the provincial police.
Following CCTV's exposé of the prostitution networks in Dongguan at the weekend, the city government vowed to root out any forces protecting the syndicates.
Yan's sacking came after 10 police officers were punished for negligence in handling public complaints about prostitution.
Two officers were sacked, three were demoted and the rest were given demerits, the municipal discipline committee said.
Seven police officers who were sent to areas in question did not handle the matter competently, but the committee did not offer details.
CCTV accused local police of turning a blind eye to prostitution rackets operating out of luxury hotels and saunas, which were backed by "untouchable" businessmen.
The officers were from police stations in the towns of Zhongtang and Huangjiang, a few kilometres apart. The chiefs - Zhang Weibin, head of the Dongbo precinct in Zhongtang, and Huangjiang police station chief Ye Yuxin - had already been removed from their posts.
More than 6,500 police officers took part in the raid on almost 2,000 venues but only 67 people were initially detained, leading some to question if the syndicates had been tipped off.
In an earlier notification, the city's discipline committee warned town party chiefs and rural police heads that they could be sacked or face severe punishment if prostitution re-emerged in their jurisdictions. The same applied to party cadres who protected such establishments...South China Morning Post.