Divorce is Devastating.......Hold on Still, God Hates Divorce - Stories of regret after divorce
Family Reconciliation Series!
Divorce is very expensive for a believer.
Divorce could make you miss heaven
There is no perfect marriage, as the two people in marriage are not perfect.
Before you judge your spouse, judge yourself first.
Before correcting your spouse, look inwards and first correct your own weaknesses.
Reasons for Marital Crisis:
LOVELY BUT POOR: - Life can bring different strokes to different families - Some marriages are peaceful and the couple love themselves, but they are 'bastardly' poor. They love themselves, but no money and no favour coming from anywhere...the devil testing them with poverty.
BLESSED BUT NO PEACE: - Then, we have marriages blessed with riches and wealth, but no peace, infidelity and lack of trust. The man married a beautiful wife, but runs errand for urgly small girls.
I WILL CHANGE HIM AFTER: -Then also, we have some women who marry their husbands with the hope of changing their bad habits of smoking, drinking and womanizing, behaviour patterns formed over the years, which only God can change. So after trying for a while to change their spouse without success, discouragement, and resistance sets...and the trouble begins. Only God can change a person and change in a person take time to manifest.
BUSINESS AS USUAL: - Some young ladies entering into marriage thought it will be a continuation of their old lifestyle, only to discover that marriage places restriction on both the man and the woman in certain matters. They cannot continue to keep the pictures of their Ex-lovers or continue to follow them after marriage. They will soon discover they cannot invite their Ex-lover to their home and other similar issues...Many at times they will ask
"Is this the marriage?
,
and the answer is YES.
GOAT INSTEAD OF SHEEP: - Your marriage is facing crisis because both of you are hard hearted individuals, proud and 'blameless' - You have also bothered to study the word of God to know what it says about marriage, instead you are applying human wisdom, 'smartness' in dealing with your spouse. Both of you are 'goats', instead of sheeps - Hard truth.
One of you may have slipped into a secret sin or touched unclean things or entered into wrong places, or compromised your position one way or another, without confessing it.
GREED:- Some of you have wrecked your relationship through your greed - looking for what you don't need or trying to get what will not benefit your family.
When you are greedy for another man because of his position and status, greedy for money and promotion, get ready to pay the price - compromise and fall into sin.
Some of you, the devil has sponsored your business and other activities, directing his men and women to patronize you, and has initiated you into different immoral acts and the spirit of lust is living inside of you...and you think your marrying will stop your perverse thinking and behaviour...NO.
SEXUAL PERVERSION: -Through sexual perversion, many young people has sold their soul to the queen of the coast and the spirit of lust has eaten deep into their lives before getting married...and you think the marriage will work, while the 'strongman' of Lust is still living inside of you...NO
SECRET SIN:- Some people has fallen to the trap of the enemy un-knowingly and have refused to confess to their spouse, so they can fight the battle together and overcome. Now, without confessing such secret sin to your spouse, you cannot be free from it, s now you hid and commit sin and it has become an iniquity on you.
DISCUSSING YOUR MARRIAGE: - You that discuss your marriage with your Ex-lover colleague in the office and make jest of your spouse before him/her, I pity you. These are the people you should have withdrawn from to enjoy your marriage, but NO, They will soon tear your marriage apart and your troubles will increase unto loneliness.
FOOLISH THOUGHTS: - You think another man is treating his wife like a queen and your husband is not doing the same, when you are not close to the, neither do you know what the wife is suffering and tolerating. If you think one marriage is perfect you are deceiving yourself.
LOVE AND MARRIAGE:
Brethren, Love is patient, love is kind. It does not envy, it does not boast
, it is not proud. It does not dishonor others, it is not self-seeking, it is not easily angered, it keeps no record of wrongs. Love does not delight in evil but rejoices with the truth. It always protects, always trusts, always hopes, always perseveres - 1 Corinthians 13:4-7
Divorce could stop many from entering the kingdom of God, not just because you divorced your spouse, but the moment you cannot stay pure and holy after divorce, the sin of sleeping with anyone other than your wife or fornication of the heart could cause one to miss heaven.
Some Hard Marriage Reality Question:
1. What do you do when a spouse is convinced the marriage is over?
A lot can be done, first find out why he/she thinks its over with the marriage.
Take the matter to God in prayer.
Examine your life in view of the complaints of your spouse and decide to amend and correct every mistake. The man is expected to take leadership in this area and assure her of your love.
Many couple or partners talking divorce do not know the deep implications of divorce, except that man or woman is already estranged, divorce will distort your life plans and bring a lot of confusion.
Re-marrying does not mean the problem that led to your divorce will not recur again in the new marriage. Also, when you leave a marriage broken, you can hardly make a better marriage because the experiences of the past will hunt you and you can hardly trust the new husband or wife. This is why many remain un-married thereafter and fall into diverse temptation and sin, and many will have to live in regret till death.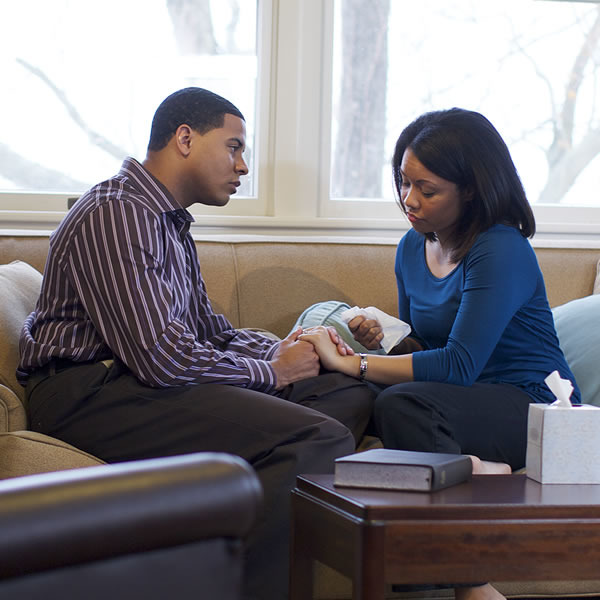 Reality of life and marriage:
If you were ever in love, its not easy to break the love and just move on, as though nothing has happened.
You will find out that those people urging you on are all agents when the dust settles down. They want to make you like themselves - single parents or divorcees or better still they want to piush you of your marriage, so they can mock you. Many women become laughing stock as lonliness over a long period could make them 'fall' to younger men and sometimes their resources, cars, house and even her retirement benefits cold be the target of such younger men, set to devour her.
Sometimes, the same people urging you on, will turn around to blame you when the chips are down or even seek to replace you. We have the case of a magistrate court judge who separated a couple, only for the judge to go back and marry the woman.
Husbands, Wives - Value your spouse and think not that your marriage was an error. Work-out the marriage you want, rather than expecting things to workout itself.
Regret Cases 1: – A 39-year old wife, Fadekemi Adeleye
This woman told a Customary Court sitting in Aiyedun-Ekiti, in Ikole Local Government Area that she regretted divorcing her first husband. Fadekemi lamented that the beating from her present husband, Adeleye Ojo, was worse than that from her former husband. The estranged wife, who said her husband, (the defendant) would flare-up at the slightest provocation; prayed the court to dissolve her three-year- old marriage.
"I regretted that I took money from my present husband to file a divorce against my former husband. "I have become a laughing stock in the area we live because of the beating and public disgrace. "People in our area now call me "Titilayo" meaning "There is joy in beating." "My incumbent husband disgraces me in public, accusing me of having extra-marital affairs," the woman said. The woman also prayed the court for custody of the only daughter, Precious Adeleye, produced by the union and an order of the court for the release of her property in the man's house...Courtesy Vanguard
Regret Case 2 - A Man says - 'Don't be me and live with regret':
"It is when you are there at your darkest that you need to grip down and try your hardest."
Jacob* left his wife of almost a decade for a woman he had been romancing online. But the grass wasn't greener on the other side. He shares his story with YOU.
I was married, had been with my wife for 15 years. Then I left her 2 months short of our 10 year wedding anniversary.
We were parents to two beautiful children, who are in their late teens now, but were only seven and nine years old when I walked out.
I travelled for work, stayed in a different hotel at least three nights a week. That's how I met Eve*.
We got to know each other over time. We became Facebook friends. We sent messages to each other all day and night. She was also married, also had two kids. We had so much in common, we soon fell in love. I felt like she 'got' me.
This was all during a very trying time in my marriage. I wasn't happy, I didn't look forward to going home. My wife had put on weight, we hardly ever spoke, she always looked so miserable.
Little did I realise that I was the reason she was so down and depressed. I didn't pay her any attention. I took her for granted. I was too busy wishing my life was more exciting, being romanced online, spending all of my free time thinking how I could get out.
I believed she didn't love me. I convinced myself she never cared about me or my needs and wants and wishes, that all I was was a paycheck.
She spent her free time taking care of us -- our kids, making our suppers, doing out washing, making lunches, doing homework, projects, shuttling kids to sport, taking care of the pets they loved so much, their friends, and had a job of her own on top of it all.
Every time she spoke to me, all I heard was nagging and whining. But she was actually begging for my attention: a weekend away, a date night, a movie -- everything I ended up doing with Eve behind her back and after I left my family.
We argued and fought because we felt unheard by the other. And yet that was all we actually had to do – LISTEN – to each other!
I moved to another province with Eve. My now ex-wife got custody of our kids. I saw them every second weekend, the usual 'Dad' set up.
One of the typical focuses is to keep all the wrongs they have experience alive in their mind. A person who feels wronged and keeps focused on those wrongs will eventually make a decision to detach and at that moment it's only a matter of time till they feel so numb they now feel safe to leave the marriage.
If couples took a moment to explore their relationship and their own behaviours what many will discover is where they are is where they should be based on how they have reacted to each other.
Usually what's at fault is the couples' lack of knowledge of what has to really happen if they are going to keep a marriage alive for life.
Getting a divorce is a big decision and for many a big gamble and sadly they are not aware they are taking it. All they are focused on is getting out and feeling good again.
Divorcing has lasting consequences not just for the couple, but also for their children not forgetting the extended families. So when they do get out of the marriage feeling good can be a short-lived relief followed by the real truth that any divorce will bring.
Beloved, God hate divorce, do not like what God hate.
How God restored a troubles marriage:
The man said - We were both sick of our marriage.
We had both said to each other, "I don't believe in divorce, but if I did I'd be out of here." We were hopeless.
When I came back from dinner that night she told me the same thing she had said four months earlier. This time, it clicked.
I think God brought an idea to my mind on the spot because it really did change our marriage.
In Matthew 7:1-5 Jesus instructs us to focus on the sin in our own lives before we try to help others deal with sin in their lives.
This is a life-changing principle for all of life and especially for marriage.
Even if you think you are in a conflict with your spouse where he or she is 99% wrong and you are only 1% wrong, you should always treat your sin as the bigger sin—the sin that is closer to you and that you have more responsibility for.
If my wife and I each literally had a speck of dust in our eyes, the speck in my eye would look larger because it's closer to me.
Jesus said when we ignore our own sin to focus on the sin of others, it's like having a huge plank of wood sticking out of your eye.
It seems that a lot of that plank of sin is the sin of self-righteousness. We love to compare our sin to others and tell ourselves that they are evil and we aren't so bad.
It's crazy to think that I can walk over to my wife with a plank sticking out of my face and gently get the speck out of her eye in any helpful way.
So that night I said to my wife,
"For most of the last year all I've done is criticize and rebuke you. So for the next year I promise to not bring up any of your sin or faults. If you ask me a question, I'll answer it honestly. But I will only initiate talking about my sin. I will listen to all you have to say to me. Any sin I see in you, I will just pray about it."
I've made a lot of vows in my life and have broken most of them, but by God's grace I kept this one.
Over the next few months, when we would get in an argument, I would catch myself and shut my mouth and listen to all she had to say.
I didn't attack her. I would agree about all I had done wrong.
It was hard. Internally I was often boiling. But when the largely one-sided fight was over, I would go pray.
I would start out by complaining and telling God all that was wrong with her and how He needed to change her.
But it's hard to pray about your spouse's sin and not mention yours. So I prayed more about my own sin.
I started to soften and become broken and humbled by how much God was constantly forgiving me for.
Spending more time focused on how radical the mercy of Christ that flowed from the cross was for me began to truly change me.
It became easier to listen to my wife, easier to be compassionate, and easier to admit my sin.
After maybe four months of this pattern, one day while she yelled at me about something I had done wrong, I was admitting she was right. She stopped mid-sentence and said, "You know, this isn't all your fault. I've sinned too."
I wish I could say it was happily ever after from then on. It wasn't.
It probably took another year of working through our sin and getting counseling as well. But the tenor of our marriage changed.
For the first year or so we had been in a race to attack the other. We wanted to score the most points by landing the best rebuke on the other. We wanted to win the argument.
Now, for the last 15 years or so, by God's grace, we typically race to see who can repent first.
Rather than focusing on the other person's speck of sin, we usually try to focus on our own plank of sin first. This does many great things for our marriage and for our ministry.
First, we become more humble because we are more aware of our own sin.
We also become more gracious because we are so much more aware of how much Christ is constantly forgiving us for.
Last but not least, we are much more gentle.
Because we realize how tender it can be to get sin out of our own eye, we want to be much more careful and patient in trying to help get it out of someone else's eye—spouse or student.
By God's grace we rarely fight anymore. When things come up, we are usually quick to repent.
Christ, His Word, and His mercy truly saved our marriage and our ministry.
Beloved,
JESUS CHRIST IS COMING BACK SOON, PLEASE PREPARE YOURSELF!
Friends,

the time is short. Economic and political challenges will continue till Christ come. When your assignment on earth comes to an end, where will you spend eternity"?
Repent of your sins, believe the word of God and accept His Son Jesus Christ as your Lord and Saviour. He will send the Holy Spirit of God to you, who will
guides you through the right choices and tells you things to come.
He will give you a new life, victory and eternal life.
Will you accept Him today?
Say this Prayer:
Lord Jesus I come to you as a sinner.
I am sorry for my sins, forgive me.
I believe you died for my sins, and was raised for my justification.
Come into my heart be my Lord and Saviour,
Give me the grace to serve You in truth and spirit.
Thank You for saving my soul - I am born again!
His grace be with you all.