MUGABE AND GRACE.........Just Before the "Curtain Fell"
The events in Zimbabwe has been described as a coup, but the army has denied that it is carrying out a military coup d'etat, insisting they are looking for criminals around the 93 years old leader.
Meanwhile, the military has taken over everything and everywhere. They took over the state broadcaster; President Mugabe held incommunicado; tanks rolling down the streets of the capital Harare; members of the old regime arrested; uniformed officers reading proclamations to the nation. If it quacks and walks like a duck, it's a duck.
And make no mistake: this is a coup. In fact, it bears all the hallmarks of a traditional takeover in the style of the "golden age" of the coup d'etat in Africa, Asia and Latin America – roughly between 1945 and 1975 – when governments and rulers were far more frequently changed by military intervention than they were by democratic elections.
The Army tanks closed road around the capital
Road checkpoints by the Army Deserted streets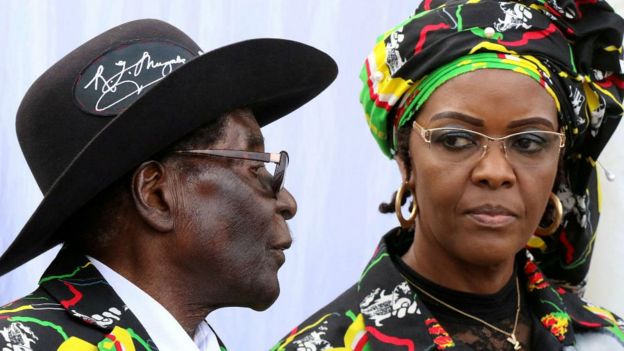 We had reported here last month that political tension was brewing in Zimbabwe when it became clear the wife of the President wanted to replace her 93 years old husband as the President and Commander in Chief.
There was obvious discontent in the Zimbabwean politics on the one hand, but first lady grace would not let go, so we concluded that political tension was inevitable.
Many were not surprise with the unceremonial removal of a constitutionally elected VP by the President in what local observers said was to make way for the politically ambitious President's wife.
Thank God the "Take-over" has been peaceful so far, let peace continue to reign in Zimbabwe.