Grenfell fire: ........Survivors left 'frustrated' by authorities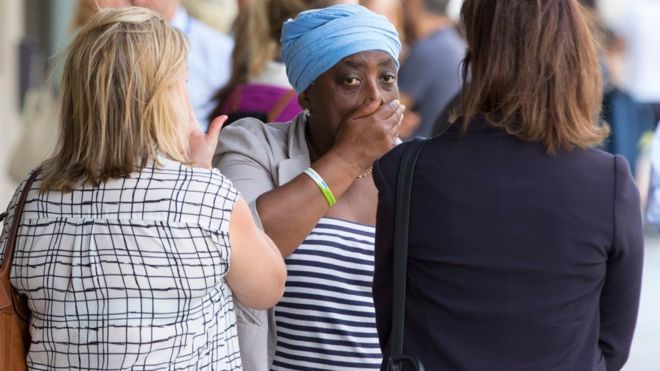 Survivors of the Grenfell Tower fire have expressed frustration at a lack of information from authorities, during a meeting with police and a coroner.
During the three-hour private gathering, Westminster coroner Dr Fiona Wilcox is said to have described the flats' interiors as "apocalyptic".
Police also faced questions as to why there had not as yet been any arrests.
It comes after officials said all survivors who want to be rehoused had been offered temporary accommodation.
The fire on 14 June killed at least 80 people, although police say the final toll will not be known for many months.
The meeting was held at the Olympia conference centre in West Kensington on Tuesday evening.
Lotifa Begum, a co-ordinator for the charity Muslim Aid, told the Press Association some of those in attendance were "very upset and angry", while several became overwhelmed and had to leave.
Ms Begum said many families "would have appreciated a lot more time and notice" before the meeting was held.
Nabil Choucair fears he has lost six members of his family who lived on the 22nd floor of Grenfell Tower.
Nadia Choucair is believed to have been in the flat with relatives Sirria and Bassam, as well as children Zainab, Fatima and Mierna, aged three, 10 and 13.
He told the BBC: "We personally asked where is our family? We want to know are our family's bodies still there and is there anything from them?
"Whatever it is we want to know exactly what it is, do not hide anything. But the answers that were coming back were 'we don't know, we don't know, we don't know'."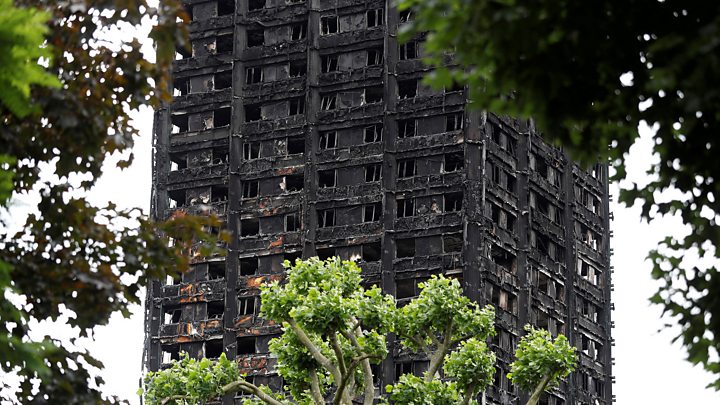 It has been reported that people were told before the meeting they would not be allowed to directly question Dr Wilcox or Met Police Commander Stuart Cundy. They were also told to email their questions in by 11:00 BST on Monday.
Meanwhile, the Grenfell Response Team says 139 formal offers of housing have now been made to survivors, after Prime Minister Theresa May promised housing would be offered to those in need by Wednesday.
However, only nine offers have been accepted and many are still in hotels.
A spokesman for North Kensington Law Centre - which represents more than 100 Grenfell victims - said many of the offers had been unsuitable.
Antonio, who lived on the 10th floor of Grenfell Tower, has turned down two offers of accommodation, saying they do not meet his needs.
"I had a very comfortable and nice flat on the 10th floor," he told the BBC. "I had a very comfortable life, I had a very comfortable home.
"Now the feeling is that they are trying to put us into places just to say 'we have complied with what we said we were going to do'."
Family and friends of missing Jessica Urbano released balloons to mark her 13th birthday

Cladding from 190 high-rise buildings in England has failed combustibility tests, the government says - an increase of nine since the last update

Buildings at London's King's College Hospital, Sheffield's children's hospital and the North Middlesex Trust have also failed fire safety tests
A contractor which the Evening Standard says was responsible for fire alarms at Grenfell Tower is reportedly being investigated for fraud. Lakehouse has been accused of installing defective safety equipment in hundreds of London properties, but the company denies any wrongdoing

Communities and Local Government Secretary Sajid Javid has said public policy failings over several decades may have contributed to the disaster
It comes amid growing pressure for Sir Martin Moore-Bick - the judge leading the inquiry into the fire - to stand down.
Labour's Emma Dent Coad, MP for Kensington, has described him as "a technocrat" who lacked "credibility" with victims.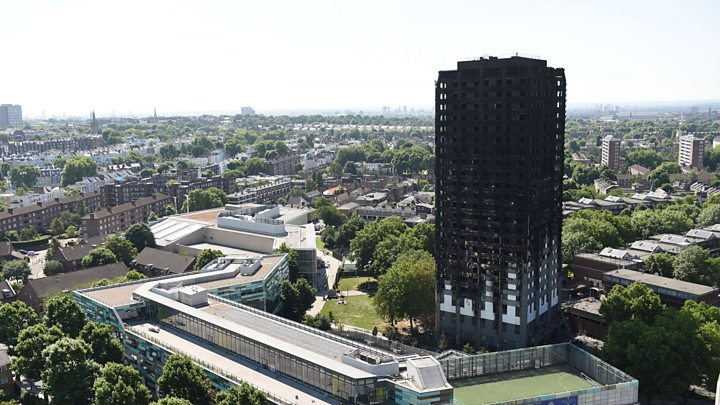 Labour leader Jeremy Corbyn stopped short of demanding his resignation, but said he should "listen to residents", while Mayor of London Sadiq Khan warned he must urgently improve relations with the area.
But one senior minister, Lord Chancellor David Lidington, said he had "complete confidence" in Sir Martin, whom he believed would lead the inquiry "with impartiality and a determination to get to the truth and see justice done".
FIRE...