The Energetic Youth - The foot Soldiers of Evangelism
PREACHING THE GOOD NEWS
Introduction
The joy of soul winning can hardly be explained with words. It is the great commission that Jesus gave all His followers and the bible says that whoever wins souls is wise.
But the reality is that going out to share the gospel of Christ is one thing many Christians dread. Some are not just afraid they will call them religious fanatics, others are afraid of being attacked on the way, so their love for souls is dwindling.
It's easy to attack a single person, then it is for a group. Even in the most peaceful places of the earth...I don't think there is anywhere like that again, please go in twos or three.
Paul says in Romans 10:14-15(NIV), "How, then can they call on the one they have not believed in? And how can they believe in the one of whom they have not heard? And how can they hear without someone preaching to them? And how can they preach unless they are sent? As it is written, 'How beautiful are the feet of those who bring good news!'" In this passage of scripture, Paul emphasizes the need for people who proclaim the gospel message and he celebrates them with a verse drawn from the prophet Isaiah. "How beautiful on the mountains are the feet of those who bring good news, who proclaim peace, who bring good tidings, who proclaim salvation, who say to Zion, 'Your God reigns!'" (Isaiah 52:7).
Evangelists, Pastors should always consider it to be an honor to be given the opportunity to teach and preach the gospel of Jesus Christ. There is something incredibly inspiring and humbling and peculiarly amazing about being a herald of God's word. It is an exercise that demands we give our all. Our mind, body, spirit, emotions, and all we have. Although we are men and women whose feet are made of clay, Paul says our feet are beautiful by virtue of the message that we carry.
Bible Study
Great Determination
The preacher's sharpest and strongest preaching should be to himself. His most difficult, delicate, laborious, and thorough work must be with himself. The training of the twelve was the great, difficult, and enduring work of Christ. Preachers are not sermon makers, but men makers. It is not great talents or great learning or great preachers that God needs, but men great in holiness, great in faith, great in love, great in fidelity, great for God—men always preaching by holy sermons in the pulpit, by holy lives out of it. These can mold a generation for God.
The preacher must throw himself, with self-emptying faith and a self-consuming zeal, into his work for the salvation of men. The reality is that there should be no fear in executing the assignment of the Master. The moment an Evangelist or a believer prays at home and gets on the road to share the good news, he has the presence of the angels of God with him.
Though you may not see them, they are following you to protect you from every danger. It is wisdom also, to go in twos or three as the case may be, instead of going alone.
The gospel of Christ does not move by popular waves. It has no self-propagating power. It moves as the men who have charge of it move. The preacher must impersonate the gospel. It's divine, most distinctive features must be embodied in him. The constraining power of love must be in the preacher as a projecting, eccentric, an all-commanding, self-oblivious force. The energy of self-denial must be his being, his heart and blood, and bones. He must go forth as a man among men, clothed with humility, abiding in meekness, wise as a serpent, harmless as a dove.
Fellowship
Success will follow
We live in a world where success is defined in innumerable ways, most of which are wrong. The success I am talking about is in terms of soul winning and training of more and bold evangelists to spread the gospel around the world and for the future propagation of the Good News.
Paul says this toward the very end of his life, writing to Timothy in 2 Timothy 4:6-8,
"For I am already being poured out as a drink offering, and the time of my departure has come. I have fought the good fight, I have finished the course, I have kept the faith; in the future there is laid up for me the crown of righteousness, which the Lord, the righteous Judge, will award to me on that day; and not only to me, but also to all who have loved His appearing."
Just as Paul testified, if we will endure the suffering, hardship and inconveniences of witnessing the Word and live a life of sacrifice, pouring out the love of God to others in service and ministry for the sake of Christ, fighting the good fight of faith, and continue to preach the gospel and contending for truth and sound doctrine without compromise, we will finish well, and be able to raise others to continue after us.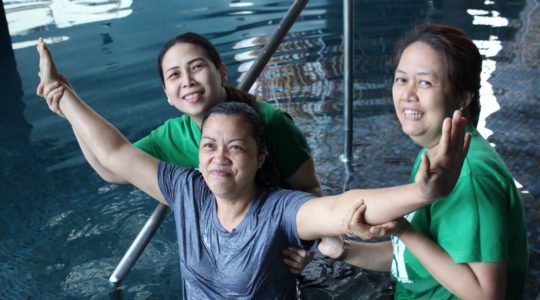 And....... Now Baptism
Caution - Danger signs
There is a great obstacle to soul-winning called unbelief. You know that it is written of the Lord Jesus that He could not do many miracles in His own country, because of their unbelief. This evil exists in all unregenerate hearts, but in some men, it takes a very pronounced form.
The preacher must never doubt the word of God, or its capacity to do anything for anybody. With God there is no impossibility is final, and once a preacher, an evangelist gets that revelation, there is no problem you cannot confront and conquer. Now watch this, if you ever develop doubt, even of the smallest substance, because, what follows is discouragement. You must never allow the devil to torment you to that extent. No matter the difficulty, no matter the challenges you are facing, it will only come and go.
Another issue the Evangelist should be careful about is called
despair. Yes, to despair is to experience mood swings. The pendulum swings first one way and then the other; and the man who yesterday had no fear, to-day has no hope. There are thousands who have heard the gospel and yet live in a kind of despair of its power. The people that despair o
ften lacks the zeal to put in their best to the work of God. They are those that say that
if they are meant to be saved, they would be saved in due time. This is a falsehood. Salvation is now, and the individual has a part in his or her salvation.
He would have to agree to serve God. It is not a decision God will make for him, it is not a decision the preacher will make for him, the person alone must decide to surrender his life to Christ. It is the duty of the Preacher to explain the Word of him, then he would take the necessary decisions and step to work-out his salvation. When a preacher despairs, what happens is that he become contented with the few people that come to his church, insisting that the Notice board outside announcing the Church is enough to bring sinners into the church to know the Lord. Such a Preacher will not be zealous for evangelism and soul winning, which the Lord commanded.
Another issue the preacher should be mindful of is 'love of sin'. Love for sin is a great obstacle to soul-winning. "Sin lieth at the door." literarily means there is a temptation at the door of every Evangelist, Preacher, and child of God. There are many men who never get saved because of some lust in the heart, leading to secret sin. It may be that they are living in fornication. Some people know the power of the gospel and God, yet sin in the heart stood in the way of their service to God.
Dishonesty is another issue a Minister of the gospel must be careful with, because it destroys the work of the gospel.
There are some men who are guilty of dishonest transactions in business and relationship, you will not see them saved all the while they continue to act so. They know the spirit of lying is operating in their lives, and they do nothing about it. They will not cry to God for help, but if they will not give up dishonesty, they cannot be saved.
Another obstacle is to put away is self-righteousness. This is an attitude of pride and know it all.
What did the Bible say about Soul-winning?
1. Mark 16:15 - And he said to them, "Go into all the world and proclaim the gospel to the whole creation.
2. Matthew 28:19-20 - Go therefore and make disciples of all nations, baptizing them in the name of the Father and of the Son and of the Holy Spirit, teaching them to observe all that I have commanded you. And behold, I am with you always, to the end of the age."
3. Romans 10:10-17 - For with the heart one believes and is justified, and with the mouth, one confesses and is saved. For the Scripture says, "Everyone who believes in him will not be put to shame." For there is no distinction between Jew and Greek; for the same Lord is Lord of all, bestowing his riches on all who call on him. For "everyone who calls on the name of the Lord will be saved." How then will they call on him in whom they have not believed? And how are they to believe in him of whom they have never heard? And how are they to hear without someone preaching? ...
4, Matthew 9:37-38 - Then he said to his disciples, "The harvest is plentiful, but the laborers are few; therefore pray earnestly to the Lord of the harvest to send out laborers into his harvest."
5. 1 Peter 3:15 - But in your hearts honor Christ the Lord as holy, always being prepared to make a defense to anyone who asks you for a reason for the hope that is in you; yet do it with gentleness and respect,
FIRE...