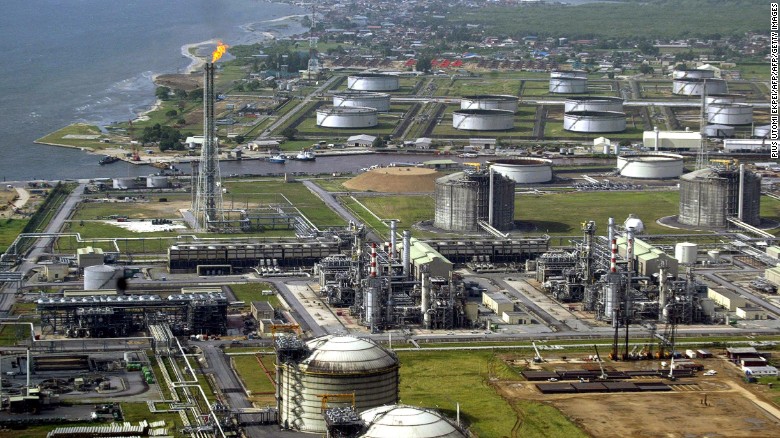 Introduction
Nigeria, Africa's powerhouse has been listed among thirty-two countries that will be the world's most powerful economies by the by 2030.
According to the release by PricewaterhouseCoopers, one of the world's largest professional-services firms, in its predictions for the most powerful economies in the world by 2030.
The report, titled "The long view: how will the global economic order change by 2050?" ranked 32 countries by their projected global gross domestic product by purchasing power parity.
PPP is used by macroeconomists to determine the economic productivity and standards of living among countries across a certain time period.
While PwC's findings show some of the same countries right near the top of the list in 13 years, they also have numerous economies slipping or rising massively by 2030.
A key regional player in West Africa, Nigeria accounts for about half of West Africa's population with approximately 202 million people and one of the largest populations of youth in the world. Nigeria is a multi-ethnic and culturally diverse federation which consists of 36 autonomous states and the Federal Capital Territory. With an abundance of natural resources, it is Africa's biggest oil exporter and has the largest natural gas reserves on the continent.
Check out which countries made the list. All numbers cited in the slides are in US dollars and at constant values (for reference, the US's current PPP is $18.562 trillion):
Netherlands — $1.08 trillion
Colombia — $1.111 trillion
South Africa — $1.148 trillion
Vietnam — $1.303 trillion
Bangladesh — $1.324 trillion
Argentina — $1.342 trillion
Poland — $1.505 trillion
Malaysia — $1.506 trillion
Philippines — $1.615 trillion
Australia — $1.663 trillion
Thailand — $1.732 trillion
Nigeria — $1.794 trillion
Pakistan — $1.868 trillion
Egypt — $2.049 trillion
Canada — $2.141 trillion
Spain — $2.159 trillion
Iran — $2.354 trillion
Italy — $2.541 trillion
South Korea — $2.651 trillion
Saudi Arabia — $2.755 trillion
Turkey — $2.996 trillion
France — $3.377 trillion
United Kingdom — $3.638 trillion
Mexico — $3.661 trillion
Brazil — $4.439 trillion
Germany — $4.707 trillion
Russia — $4.736 trillion
Indonesia — $5.424 trillion
Japan — $5.606 trillion
India — $19.511 trillion
United States — $23.475 trillion
China — $38.008 trillion
Nigeria is the 116 most competitive nation in the world out of 140 countries ranked in the 2018 edition of the Global Competitiveness Report published by the World Economic Forum. Competitiveness Rank in Nigeria averaged 112.77 from 2007 until 2019, reaching an all-time high of 127 in 2011 and a record low of 94 in 2009.
Nigeria is a middle-income, mixed economy and emerging market, with expanding manufacturing, financial, service, communications, technology and entertainment sectors. It is ranked as the 27th-largest economy in the world in terms of nominal GDP, and the 22nd-largest in terms of purchasing power parity. It is the largest economy in Africa; its re-emergent manufacturing sector became the largest on the continent in 2013, and it produces a large proportion of goods and services for the West African subcontinent.
Previously hindered by years of mismanagement, economic reforms of the past decade[when?] have put Nigeria back on track towards achieving its full economic potential. Nigerian GDP at purchasing power parity (PPP) has almost tripled from $170 billion in 2000 to $451 billion in 2012, although estimates of the size of the informal sector (which is not included in official figures) put the actual numbers closer to $630 billion.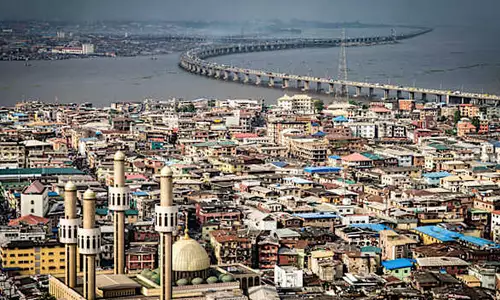 Banana Island, Lagos
Although oil revenues contribute 2/3 of state revenues, oil only contributes about 9% to the GDP. Nigeria produces only about 2.7% of the world's oil supply (in comparison, Saudi Arabia produces 12.9%, Russia produces 12.7% and the United States produces 8.6%). Although the petroleum sector is important, as government revenues still heavily rely on this sector, it remains a small part of the country's overall economy.
The large subsistence agricultural sector has not kept up with rapid population growth, and Nigeria, once a large net exporter of food, now[when?] imports some of its food products, though mechanization has led to a resurgence in manufacturing and exporting of food products, and the move towards food sufficiency. In 2006, Nigeria successfully convinced the Paris Club to let it buy back the bulk of its debts owed to them for a cash payment of roughly US$12 billion.
According to a Citigroup report published in February 2011, Nigeria will have the highest average GDP growth in the world between 2010 and 2050. Nigeria is one of two countries from Africa among 11 Global Growth Generators countries.
Other Sectoral Reviews
Services: -
Nigeria ranks 27th worldwide and first in Africa in services' output.
Since undergoing severe distress in the mid-1990s, Nigeria's banking sector has witnessed significant growth over the last few years[when?] as new banks enter the financial market.
Transport -
Transport in Nigeria
Nigeria's publicly owned transportation infrastructure is a major constraint to economic development. Principal ports are at Lagos (Apapa and Tin Can Island), Port Harcourt (Onne), and Calabar.
Five of Nigeria's airports (Lagos, Kano, Port Harcourt, Enugu and Abuja) currently fly to international destinations.
Remittances from Nigerians in Diaspora
Foreign remittances could contribute $25.5 billion to the Nigerian economy in 2019 – PwC report.
PwC expects total remittance flows to Nigeria to double by 2023.
Nigeria received the chunk of migrant remittance flows to Sub-Saharan Africa and these could grow to $25.5 billion in 2019, according to PwC's latest estimates.
According to the estimates, migrant remittances to Nigeria could grow to $29.8 billion and $34.8 billion in 2021 and 2023 respectively.
The PwC's latest White Paper Series, "Strength from Abroad: The Economic Power of Nigeria's diaspora", revealed that migrant remittances accounted for 77.2% of the Federal Government budget in 2018 and more than 10 times the foreign direct investment (FDI) flows in the same period.
Nigeria's remittance inflows also 6.8 times larger than the net official development assistance (foreign aid) received in 2018 of $3.4 billion.
Over a 15-year period, PwC expects total remittance flows to Nigeria to grow by almost double in size from $18.37 billion in 2009 to $34.89 billion in 2023.